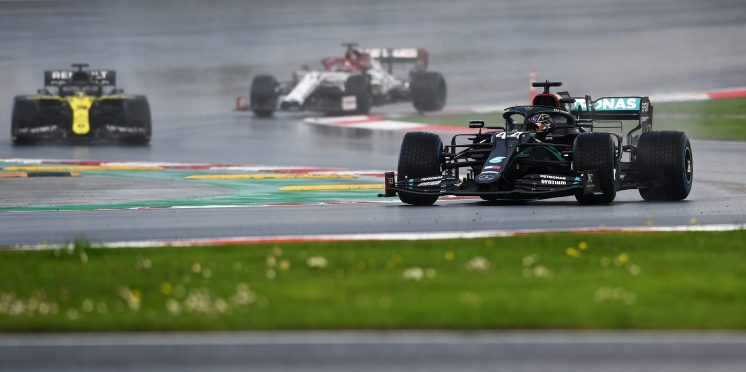 Brawn: 'challenging' track surface at Turkish GP was 'no bad thing'
Formula 1 managing director of motorsports insists Turkey's low-grip track surface was "no bad thing" despite drivers voicing frustration at the conditions.
F1 returned to Istanbul for the first time in nine years, with the circuit a late addition to the truncated 2020 calendar.
On the eve of the grand prix, the track underwent a resurfacing, with the colder conditions and wet weather resulting in drivers struggling to generate temperature into the tyres – leading to many mistakes.
George Russell was one of several drivers to express their frustration at the conditions saying it was "not what Formula 1 is about", while newly-crowned world champion Lewis Hamilton was also critical.
Brawn understood drivers were not happy with lack of grip, but defended the conditions as he believed it put on a great spectacle.
"I appreciate drivers were not happy with overall grip levels, but it was a consequence of the late decision to race there as the calendar was revised to respond to Covid-19," Brawn said in his latest post-race column.
"I think drivers sometimes need to remember it's a competition of who crosses the line first so while grip levels weren't high, it was the same for everyone. Some drivers got their head down and came to terms with it, others found it a distraction.
"Having a challenging surface as we had this weekend was no bad thing. It showed a driver's talent to the max. I don't think grip levels are a measure of the level of competition you will have.
'Competition needs to be fair and equal. It's a sport, so we need to give everyone same opportunity. It's challenging, but that should be seen as good thing.
'As an example, Monaco has always been seen to be a very difficult event and race, but if you came to terms with it and looked on it positively as a big challenge, then you would succeed and win races there. If you went there in a negative frame of mind, you didn't succeed.
'Turkey didn't have the grippiest surface, but those who knuckled down and thought this was an opportunity had success."
Brawn was quick to point out the conditions played into the hands of the experienced drivers, while the likes of Max Verstappen and Charles Leclerc were caught out.
The pair suffered were one of a handful of drivers to spin during the 58-lap race, but Brawn believes tackling the challenging conditions will benefit them in the long term.
"In contrast, the younger drivers – such as Charles and Max – made mistakes. They wouldn't have experienced a race like this before," Brawn said.
"It was a real challenge to judge how the tyres would behave, how they would evolve and anticipating where the tyres will be in 10 or 20 laps time – this was where experience came in. But this will be another reference point in these young drivers' data bank.
'If we did another race in Turkey tomorrow, I'm sure a lot of them would approach it differently."
---