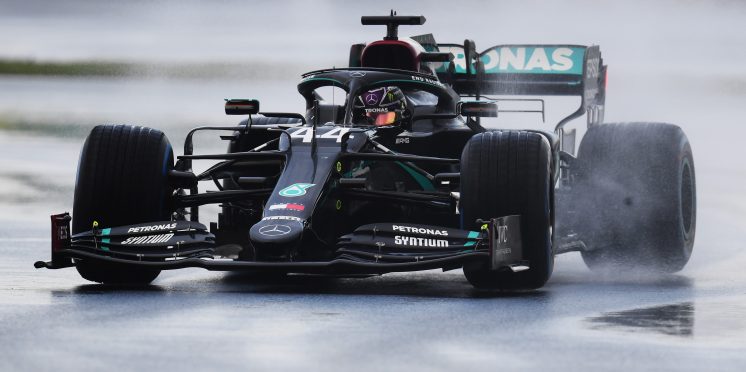 Turkey qualifying 'the least enjoyable' of my F1 career, says Hamilton
Lewis Hamilton has labelled qualifying for the Turkish Grand Prix "the least enjoyable" of his Formula 1 career after recording his lowest grid slot of the 2020 season.
Heavy rain and a low-grip track surface made for treacherous conditions, as drivers wrestled to keep their cars on track during the one-hour session.
Mercedes has failed to top any of the three practice sessions in Turkey all weekend, and saw both of its drivers qualify outside the first five positions on the grid for the first time in the V6 hybrid era.
After qualifying sixth for Sunday's race, Hamilton said he was "pretty happy" to start on the third row on a track surface he called the worst he's ever experienced.
"It was definitely one of the least enjoyable, if not the least enjoyable that I've had," Hamilton said, as quoted by Motorsport.com.
"This track, the layout is so great, but the grip is so poor that you can't really generate the grip to go through the corners at the speed we would like.
"But otherwise, it was a challenge, and challenges are always good.
"The track surface grip is the worst I've ever experienced in any year of racing. Considering how much downforce we have, it's been a challenge.
"Going into the wet today made it even harder. So we were definitely limited by grip and temperature, but I'm pretty happy with the job I did."
Hamilton will secure a record-equaling seventh drivers' championship providing team-mate Valtteri Bottas doesn't outscore him by eight points.
The Briton's chances were boosted with Bottas only managing P9 in qualifying, but Hamilton admits he is unsure how his car will fair in dry conditions.
"I have no idea what car I've got underneath me tomorrow," Hamilton said. "We made some set-ups going into today, and then it's been wet.
"If it's dry, I have no idea how it is going to feel, if it's wet, I know it's going to be, it could feel as bad as today. We'll just go with it. We're all in the same boat out there, we're all struggling. It's really cool.
"Congrats to Lance on the pole, that's pretty awesome. We look forward to a fight with them tomorrow."
---