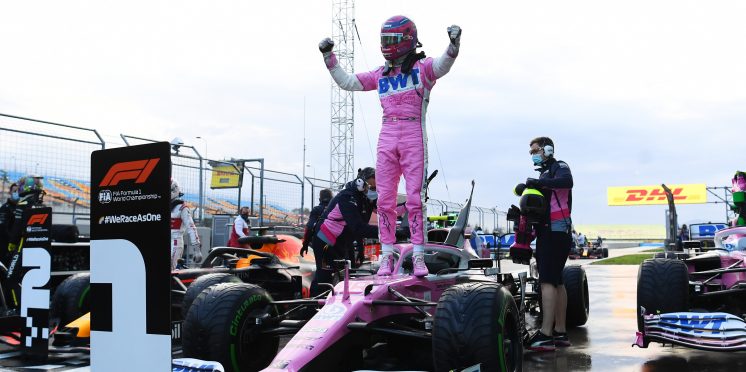 'Shocked' Stroll didn't expect Turkish GP pole after FP3 struggles
Lance Stroll was left "shocked" to seal his maiden Formula 1 pole position for the Turkish Grand Prix having expected to struggle after a difficult final practice session.
Saturday's qualifying session proved chaotic as wet conditions resulted in multiple red flags, with drivers struggling for grip around the Istanbul Park.
Despite finishing P10 in FP3, Stroll made his way through to Q3 before choosing to gamble on a set of intermediate tyres.
The decision proved a masterstroke as he swept to the top of the timesheets in the final stages, ending up two-tenths faster than Red Bull's Max Verstappen, who'd set the pace in Q1 and Q2.
Stroll, who has been on a run of five races without a point since his podium at Monza, said the result was a great reward after a "few rough weeks".
"I'm shocked. I didn't expect us to be up here after P3," Stroll said.
"There were a lot of things that we weren't sure of coming into qualifying. We didn't look too competitive in P3, but I'm so happy right now.
"I really put that lap together at the end. I was under a lot of pressure and I only had one lap to do it there at the end, because we started on the wet tyre.
"We boxed for inters and I had one lap where Valtteri [Bottas] spun in front of me, and then I had one lap at the end to do it. But I had the confidence in the car and I just nailed pretty much every corner, and pieced it together nicely.
"It's such a great way to bounce back after a few rough weeks and since Mugello really it's been a rough ride for me so. Yeah. Feels good. Feels really good right now."
Stroll's pole is Racing Point's first under its current guise, having last topped a qualifying session at the 2009 Belgian Grand Prix when it was Force India.
It also marks the first pole for a Canadian driver in F1 since Jacques Villeneuve back in 1997 at Jerez.
---