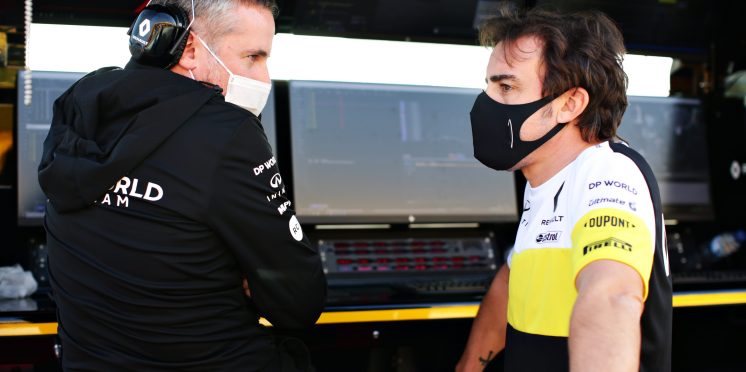 Renault sees benefit of running Alonso in 2018 car for F1 comeback
Renault believes Fernando Alonso's testing programme ahead of his return to Formula 1 next year is "beneficial" despite running him in a 2018-spec car.
Alonso will make his eagerly anticipated F1 comeback with Renault full-time in 2021 following a two-year hiatus.
The double world champion has ramped up preparations with a filming day in Renault's 2020 car in Barcelona and a two-day test in the RS18 in Bahrain last week.
While rival teams have blocked Alonso from running in the post-season young driver test in Abu Dhabi, the Spaniard will conduct a two-day test at the Yas Marina circuit this weekend.
Asked about Alonso's recent milage, Renault executive director Marcin Budkowski explained why he felt the test programme has been so useful.
"He wants more days in a car to get used to the team, to get used to the systems, the procedures, to fine tune his seating position and the steering wheel and everything," Budkowski said, as quoted by Motorsport.com.
"But he also hasn't driven the car for two years. They are bloody fast cars. He needs to get back in shape, get back in the rhythm, so he's taking any opportunity he can to drive."
Budkowski said the fewer days of running in pre-season testing next year means getting Alonso comfortable in the car now will allow them more track time.
"It's an opportunity to drive and work with him on things like the steering wheel, his favourite button position, how he wants to be able to activate all the different systems in the car, and practice our procedures," Budkowski added.
"It seems simple but the more we practice these things, the less we have to do in winter testing. We only have three days of running for our two drivers in winter testing next year, so practicing FIA procedures, all the various things he will need to have under his belt that might be different from what he experienced before, and also getting accustom to the team.
"The car is different, its our 2018 car. We've improved quite a lot since '18. But it's the same DNA of a car. The '20 car is a better car, but at the end of the day, getting him used to a Renault car, even if it's a two-year-old car, is beneficial."
Alonso's reunion with Renault will mark his third stint at the team, having driven for the Enstone-based outfit in 2003-2006 and 2008-2009.
The Spaniard has an eye on helping Renault return to the front of the field with the 2022 regulation changes, and is motivated to begin work at the earliest opportunity.
"We were in the wind tunnel, and he said, 'so you can't run the '22 car at the moment?'" Budkowski said.
"I said no, we can't do it because of the regulations. He said, 'when can you start developing?' and I said 1 January.
"'OK, are you running on 1 January?' Well normally we don't, but this year we might, as it's the year. He said, 'OK, we have to run on 1 January, I can come here and help you'.
"This is the level of motivation of Fernando at the moment."
---