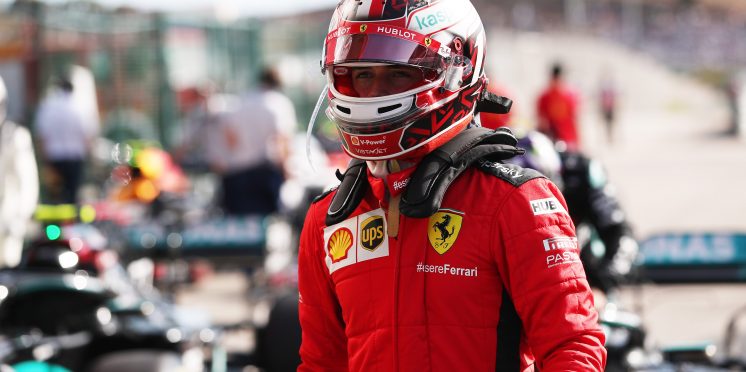 Brawn: Leclerc showing similarities to Schumacher, Hamilton
Charles Leclerc's ability to "dig even deeper" amid Ferrari's difficult 2020 season is a trait reminiscent of Michael Schumacher and Lewis Hamilton, believes Formula 1 boss Ross Brawn.
Ferrari has slipped to sixth in the constructors' championship this year with its car not as competitive as in previous years, plagued particularly by an underpowered engine.
Despite this, Leclerc has often outperformed the cars expectations, claiming two podiums and finishing a strong fourth in Sunday's Portuguese Grand Prix.
The Monegasque has also had the measure over team-mate Sebastian Vettel, out-qualifying and outracing the four-time world champion on a regular basis.
Brawn, who worked with Schumacher and Hamilton during their respective careers, feels Leclerc is showing similarities to both multiple world champions that will benefit him and Ferrari in the long run.
In his regular post-race column, Brawn said: "It was another very strong performance from Charles and he continues to give Ferrari motivation for next year after what has been a very challenging campaign so far.
"The team will know that when they are able to give him a more competitive car, he will deliver the results.
"A driver can go two ways when faced with a difficult car. It can demotivate them, their performances start to drop away and it helps no one. It's a double whammy.
"Or a driver can do what Charles has done and dig even deeper and find extra performance that helps subsidise the team when things aren't so great.
"Through that process, when he does get car underneath him, he will be a stronger driver.
"I often felt with Michael, there were races he won which he should not have won because the car wasn't good enough but he managed to find a way to win. And that is what makes a world champion.
"Lewis has demonstrated that. He's got a great car now, but I recall him winning races when the car was not a top performer. And Charles is doing similar at Ferrari right now."
Hamilton's dominant victory in Portimao saw him eclipse Schumacher's win record, increasing the milestone to 92, a feat Brawn labels as "truly impressive".
"This was another exemplary performance from Lewis," Brawn said. "No one can come near him at the moment.
"Ninety two wins is an incredible achievement. Who knows where this is going to stop.
"His ability to departmentalise his life and his challenge is something I noticed early on when I worked with him at Mercedes. He had a number of things that he was pursing as well as F1, but he seemed to have impressive ability to put it all to one side when he got in a racing car and produce these exceptional performances. For someone who has an involved lifestyle, it's truly impressive.
"He does not have many weaknesses and rarely makes mistakes. His consistency is extraordinary and has been the backbone of his success in F1. He's flying at the moment and shows no signs of slowing down."
---