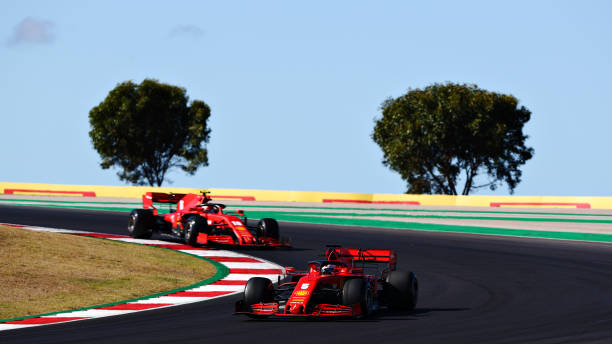 Vettel concedes Leclerc in a 'different class' after Q2 elimination
Sebastian Vettel admits Ferrari team-mate Charles Leclerc is in a "different class" to him right now following his struggles in qualifying for the Portuguese Grand Prix.
Although Ferrari's pace this weekend suggests it has made progress, Vettel languished down in 15th place at the end of Q2 while Leclerc claimed a place on the second row of the grid.
It marks the eight-race streak where Vettel has failed to make the final part of qualifying, with the German insisting there is "nothing more" he get out of the car.
"It's not just beating, it's like a different class," Vettel told Sky Germany. "I try everything I can. I think the laps I hit, and I'm satisfied with them, are still too slow. At the moment there is nothing more I can do than to get what I have inside me."
Ferrari opted to send both of its drivers out on medium tyres in Q2, but Vettel encountered problems getting his second set up to temperature on his final run.
"I actually had a pretty good feeling after the first try," he said. "But in the second run, the tyres didn't get up to temperature at all. I locked a wheel right at Turn 3 and then the lap was already messed up."
Vettel was at a loss to explain the issues having felt sure he would be able to go quicker on the medium tyre compared to his soft tyre run in Q1.
"I don't know why I have such a hard time getting the tyres up to temperature, and that it feels a bit different every time," Vettel said. "As I said, the car felt good the first time I tried it.
"I thought that with the medium I could easily repeat the time of Q1. That was the target, but it wasn't that easy."
Vettel said he wasn't keen on reverting back to the soft compound tyre for his second run in Q2 as he'd suffered with graining during practice.
"I've been struggling a bit with the soft tyres all weekend," he said. "For me, the tyres quickly let go and we got graining.
"The medium tyre seemed to be more durable. In the first attempt I had a good feeling and it was a good lap. Then I thought the time should be easy. But I couldn't get the tyres to work."
---