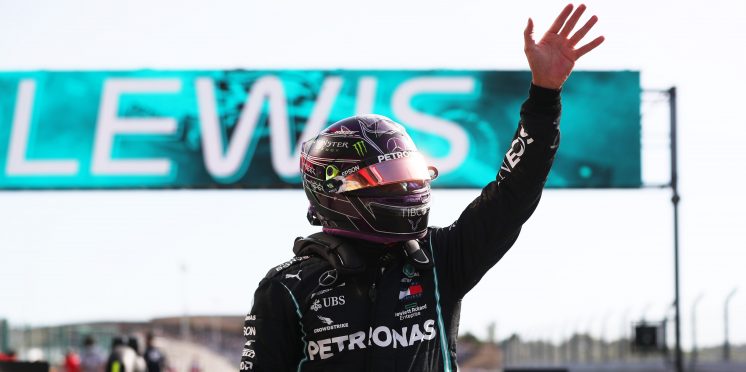 Hamilton: Three-lap run in Q3 was my only chance for pole
Lewis Hamilton felt his decision to run three laps in Q3 was his only chance to "have a stab" a beating Valtteri Bottas to pole position for Sunday's Portuguese Grand Prix.
Hamilton has found himself on the back foot compared to his Mercedes team-mate all weekend, with Bottas topping the timesheets in all three practice sessions around the Algarve circuit.
The Finn looked on course to claim pole after setting the pace in the first two qualifying segments, but chose to fuel himself for just one timed lap, a strategy that would ultimately backfire.
Although Bottas went fastest with his sole Q3 lap, Hamilton snatched top spot in the dying seconds to clinch his 97th career pole.
"Valtteri has been so quick this weekend," Hamilton said after qualifying. "He's topped every session and I've just been digging and digging and digging and trying to find that extra time.
"At the end there, I chose to do three laps to give me a chance to have a stab at beating his time. And I think he decided to do one. So I was like, 'okay this could provide me an opportunity and it worked.' That last lap got better and better as I went through."
Hamilton revealed he and Bottas were given the call over the length of their final runs by Mercedes, with the Briton opting for an extra lap given the varying grip levels on the track surface.
"We had the choice of going on to the soft or to the medium," Hamilton said. "We both chose to go to the medium. He chose to do one lap, I chose to do three, because we had the time.
"So I got out there nice and early. And, you know, the medium tyres…the tyres are very hard here this weekend. We've got the hardest of the compounds and getting them to work here is, believe it or not, it's very, very difficult. So that's why I wanted to have an extra run just in case the first one wasn't that great. And it worked perfectly."
---