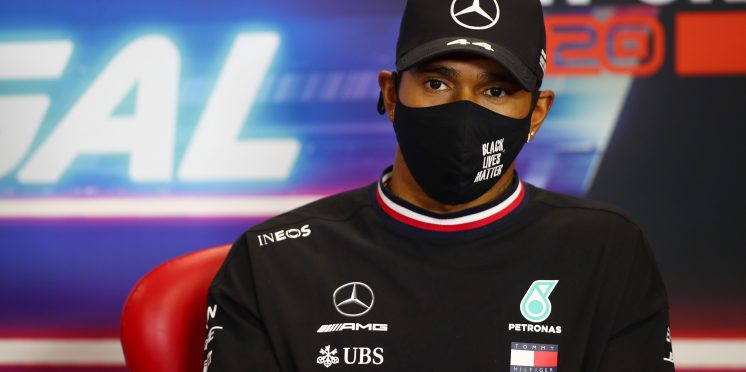 Hamilton: Renewing Mercedes contract 'not a priority' right now
Lewis Hamilton says while signing a new Mercedes contract beyond 2020 is "probably" a formality, he insists it isn't "a priority".
It has been well known that Hamilton's Mercedes deal expires at the end of this year, but it is expected both parties will reach an agreement.
Mercedes team boss Toto Wolff has spoken of a desire to sit down with Hamilton and discuss the matter, and revealed he would try to use the breaks between races to negotiate a contract.
But Hamilton said these negotiations have yet to take place, insisting wrapping up a record-equaling seventh drivers' title is his main focus.
"Not particularly. We just haven't really spoke that much about it," Hamilton said when asked if a putting pen to paper on a new deal was a given or whether something was holding the process up, as quoted by The Race.
"A formality? I don't know. Probably.
"At some stage, I guess we have to sit down and have conversation but it's not a priority right now. Getting the job done this year, for me personally, is the priority. So that's what I'm solely focused on right now."
Hamilton is adamant the ongoing delay over his contract is nothing to do with Wolff not committing his future to Mercedes post-2020, saying it would be "silly" to let it sway his decision.
The six-time world champion has previously stated he felt uncomfortable discussing his future amid the coronavirus pandemic, but is clear that when the time is right they will commence talks.
"I've always been committed to this team," Hamilton said. "Always completely transparent.
"I think that's always been a key. I know if you don't have communication for a while people can start to hear whispers.
"I could, for example, worry that Toto is speaking to somebody else, which is silly – I don't think that but I'm just saying that's what humans can do.
"And so it's always been important for us just to be really clear with each other, with our intentions.
"I haven't spoken to anybody else, I don't plan to. And at some stage Toto and I will sit down and work out our paths moving forward.
"We've achieved quite a lot together. It's quite remarkable what we've done together I think, over these years, and we're still not done."
---