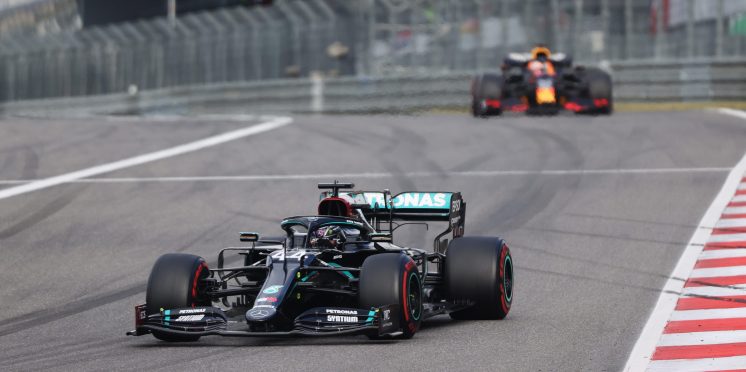 Wolff: Mercedes finished 2020 F1 car development 'a long time ago'
Mercedes boss Toto Wolff says the team has shifted its attention to next year's car after stopping development on the W11 "a long time ago".
The Brackley-based outfit is on course to seal a record-breaking seventh consecutive championship double, going one better than Ferrari's tally from 1999-2004.
Although it has won all but two of the 11 rounds in the 2020 season, Mercedes' pace advantage was noticeably smaller at the recent Eifel Grand Prix.
Red Bull brought an upgrade package that enabled it to challenge Mercedes in both qualifying and race trim, with Max Verstappen qualifying just two-tenths shy of Lewis Hamilton's pole position time.
Having not updated the W11 for a series of races, Wolff admitted that after some consideration Mercedes decided to halt its 2020 development.
"We finished [the updates] a long time ago, and that has always been in the past," Wolff said, as quoted by Motorsport.com.
"What we looked at is a very thoroughly thought through decision, because not in every championship can you afford to close the book early.
"But the rules changed quite a lot for next year and in that respect, like in previous years, we decided to switch to next year's car.
"This is why you can see the shifting performance between the teams. We always have a very strong start and middle of the season, and then whoever continues to develop is strong at the end."
Mercedes trackside engineering director Andrew Shovlin echoed Wolff's comments, highlighting the common trend of Red Bull always ending a season stronger than it started.
"I think they are developing quicker than we are at the moment," Shovlin said.
"And we've seen that progressively. But to be honest, we've seen that in most of the recent years, they tend not to start as strongly as we do. I can't really think of a year recently where they've not been with us by the end.
"So if we see that trend continue, then the remaining races are going to get tougher, and it will be harder to try and keep getting the pole on Saturday and winning on a Sunday."
Hamilton's victory at the Nurburgring, that saw him match Michael Schumacher's record 91 wins, has put him 69 points ahead in the drivers' standings and clear favourite for a seventh drivers' title to also tie with Schumacher.
Despite the continued success for both driver and team, Wolff stressed it would not lead to Mercedes dropping its eye off the ball in the remaining races.
"When you think too much about points, race wins or championships you're getting distracted," Wolff said.
"I think you need to be as good and as close to perfection in every single session, and then try to score as many points as possible in the race.
"And that's why you must not look too much of what could be. But just concentrate on the task in front of you.
"It's something to be proud of, but not something that should trigger too much of a complacency.
"That risk doesn't exist within our team because we are relentless, we push for perfection and for tomorrow rather than looking back."
---