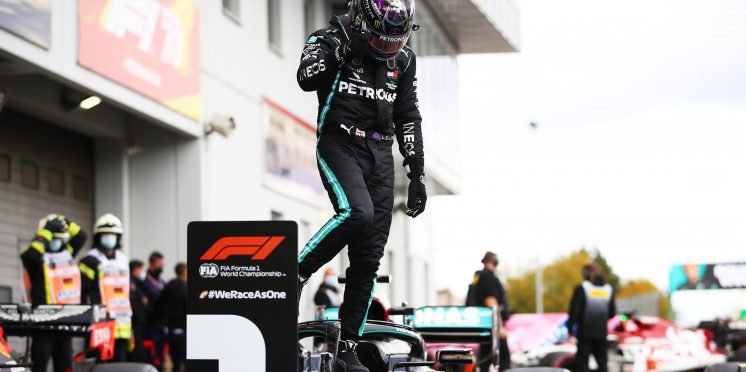 Wolff: Hamilton wins because he has the best car comments 'not quite fair'
Mercedes boss Toto Wolff says it's "not quite fair" for people to play down Lewis Hamilton's achievements by commenting he only wins because he has the best car.
Hamilton's record-equaling 91st victory in Sunday's Eifel Grand Prix saw him move level with Michael Schumacher, who's success was also belittled by critics for the dominance of his Ferrari's at the start of the millennium.
The Briton has won 69 races out of the 132 grand prix's contested since the beginning of the V6 hybrid era in 2014, as well as five of the last six drivers' championships.
Wolff acknowledged Hamilton wouldn't have likely reached these numbers without "the right car", but felt he deserved more recognition for what he's achieved in his Formula 1 career.
"Winning races and winning championships is always in this sport a team exercise," Wolff said, as quoted by The Race. "You need to put yourself in a position that you end up in the best car.
"You can see lots of talented and skilled drivers took wrong decisions or not well advised decisions and in that respect, it was him who joined Mercedes in 2013.
"And it is him that sits in the car and is able to execute on track with a tool that we provide to him.
"It's always the two that are part of this. We couldn't achieve the records that we have [without Hamilton] and he probably couldn't achieve the records without the right car, full stop.
"I don't want to allow these voices that say, 'he drives a Mercedes it's obvious that he wins so many reasons'.
"The drivers who say that, they should analyse why they haven't found a way into a Mercedes."
Hamilton is now also on course to equal Schumacher's once seemingly-untouchable record of seven world titles, with his win at the Nurburgring increasing his lead in the drivers' standings to 69 points.
Wolff credited Hamilton's role in Mercedes' continued success over the past seven years, saying he is nothing like the driver who joined the team in 2013.
"What impresses me the most is that as a human being he develops from year to year," Wolff said. "The Lewis Hamilton that we see today has nothing to do with the Lewis Hamilton that I met in 2013.
"And that is most impressive that somebody who is performing on that level is still capable of getting better every year, getting better as a person and getting better outside of the car and getting better inside of the car.
"That is something that is truly inspiring."
---