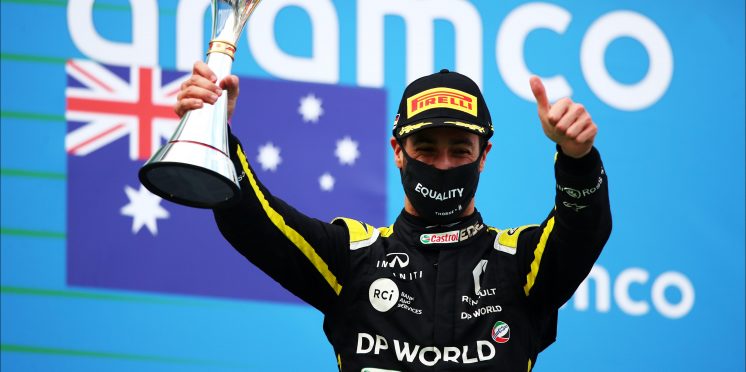 Ricciardo: Maiden Renault podium feels like my first
Daniel Ricciardo says clinching his maiden podium finish for Renault at the Eifel Grand Prix feels like his first "all over again".
Ricciardo immediately made up a position on the opening lap to run in fifth place, before finding a way past Ferrari's Charles Leclerc after spending several laps trying to pass the Monegasque.
Pole-sitter Valtteri Bottas suffered a mechanical issue that elevated Ricciardo into the podium places, where he became embroiled in a battle with Racing Point's Sergio Perez on differing strategies.
Both pitted under the late safety car period allowing Ricciardo to retain third place, but despite pressure from Perez, the Australian held on for his first top-three finish since Monaco 2018.
"Yes, it's been a while," Ricciardo said after the race. "And actually, to be honest, it feels like the first podium all over again. I think it's been two and a half years or something, and yeah the feeling, it's really nice, it's fresh.
"I'm so, so happy and obviously to see everyone as well: we've all waited a long time for this. So, yeah, I think everyone's going to soak it up."
The result marked Renault's first visit to the rostrum since its return to Formula 1 in 2016, with Nick Heidfeld's third place in Malaysia 2011 the last under the French manufacturer's name.
Ricciardo revealed earlier in the year he'd shared a bet with Renault boss Cyril Abiteboul that if he finished on the podium in 2020 they'll get matching tattoos.
As part of the deal, Ricciardo will choose the design, while Abiteboul gets choice over the size and position of the tattoo.
After achieving the podium at the Nurburgring, Ricciardo hinted the tattoo would have a German theme.
"It's real. It's going to happen," Ricciardo said. "We'll have to do some thinking now, but probably it will be something to do with me, but I think with a German flavour.
"This is obviously the place we did it. A little tip of the hat to something traditional in Germany as well."
---