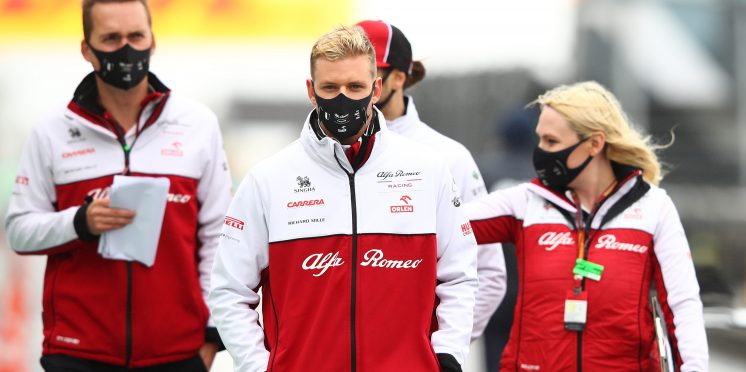 Schumacher: F1 preparations 'very valuable' despite no running
Mick Schumacher says his weekend preparations for his Formula 1 practice debut have been "very valuable" despite seeing the session cancelled by wet weather.
Schumacher was set to drive in opening practice for this weekend's Eifel Grand Prix at the Nurburgring for Alfa Romeo, having previously driven in the young drivers' test in Bahrain last year.
But rain and fog prevented Friday's running from taking place, putting Schumacher's debut on hold, but the German remained upbeat about his first experience at an F1 grand prix.
"Obviously it's been a shame not to get out," Schumacher said, as quoted by Motorsport.com.
"We knew that the weather forecast didn't look great. This time of the year in the Eifel is not the most sure there is going to be dry, so on that side, we knew it might be wet, and it was.
"In the end, the preparation was good, we've done a lot of meetings and I got so much knowledge out of it. "It's been very helpful."
With no Formula 2 on F1's support bill, Schumacher will stay with Alfa for the rest of the weekend to get further embedded with the team.
"I'll stay here with the team, and we'll go over the meetings, and also the procedures on how the actual F1 drivers are doing at he moment to just get an insight of how things are running," Schumacher said.
"Definitely I think it's going to be very valuable for me, and I'm very much looking forward to it."
With four races left in this year's F2 season, Schumacher sits at the top of the drivers' standings by 22 points with two victories in Italy and Russia.
Schumacher, who is a member of Ferrari's driver academy, is focusing his attention on seeing out the campaign strongly despite being linked with an F1 drive in 2021.
"For me, it's important to finish off the F2 season on a high," Schumacher said.
"We're in a strong position now, that's where my main focus is. For the rest, I cannot really tell you anything about that now."
Ferrari hasn't confirmed if Schumacher and fellow FDA member Callum Ilott, who was in line to appear for Haas in FP1, will have a practice run later in the year.
Although Schumacher stressed his focus was on F2, the 21-year-old said he would take any opportunity to jump into an F1 car.
"Any opportunity would be great to hop into the car," Schumacher said. "F1 is the goal, F1 is the dream. So the more I get into it, it would be more of an opportunity for myself to show myself in that category.
"For me, the focus is on F2, trying to finish that on a high and focus on the championship."
---