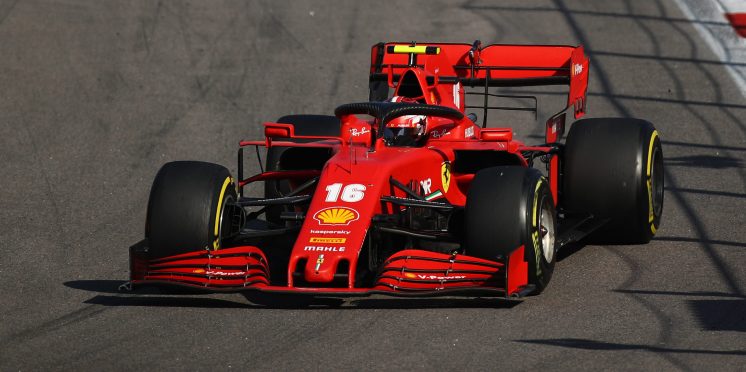 Ferrari to bring a 'few more' F1 car upgrades to Eifel GP
Ferrari is planning to introduce a "few more" upgrades on its 2020 Formula 1 car for next weekend's Eifel Grand Prix at the Nurburgring.
The Italian outfit brought some updates to Sochi in a bid to rectify the issues that has plagued its season so far, with Charles Leclerc finishing a strong sixth in Russia.
New rear wing endplates, nose cape and turning vanes were the parts added to the SF1000, which Ferrari says has already shown to have had a positive impact.
Asked if he'd felt the car had progressed with the new upgrades, Leclerc said, as quoted by Motorsport.com: "Driving-wise, it's not like we felt a big difference.
"But the data says that it's a small gain, which is what we expected, so this is already positive. Now I'm looking forward to the next race where normally we'll have something a bit bigger."
Ferrari boss Mattia Binotto went on to confirm the team would be bringing some updates to next week's race, where afterwards it will divert its attention to the diffuser for the remainder of the 2020 season.
"As Charles said, we have a few more upgrades in Nurburgring, but again not major," Binotto said.
"Still for us, I think [they are] important considering the level of competitiveness.
"Then we'll focus mainly on the diffuser for the remaining part of the season, but by when, it's not yet defined."
Despite Leclerc securing Ferrari's best result for five races in Russia, Binotto played down suggestions the upgrades had played a major role in the result.
"I don't think it's down to the upgrades," Binotto said. "Certainly they helped, but that's not the reason. As Charles said, I think we've got a better balance here, and with [the] track characteristics.
"Let's hope that we found some competitiveness again that gives the opportunity to the drivers to at least compete for a better position in the future."
Sebastian Vettel wasn't able to get a real feel for the updates after suffering a challenging weekend in which he crashed in qualifying and finished outside of the points in 13th place.
Aware his struggles in Sochi hadn't allowed him to judge whether the new parts had improved the SF1000's performance, Vettel was optimistic Ferrari was heading in the right direction.
"On Friday, I think the parts were doing what we expected," Vettel said. "It's a very small step, not a huge one in performance, but we knew that going in.
"For sure it doesn't hurt, and hopefully we can confirm in the next races that the pace is a bit better due to that."
---