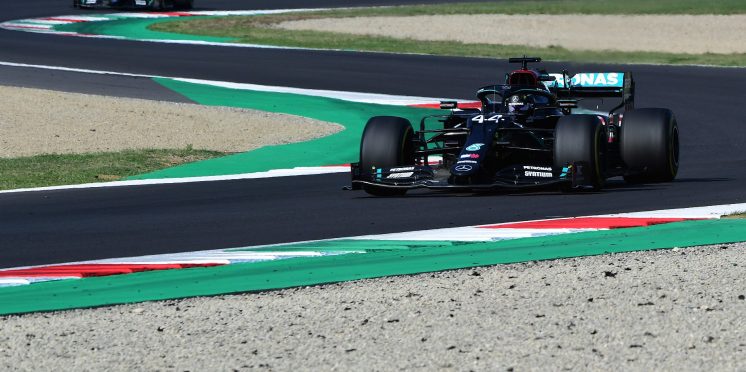 FIA: Not possible to mimic Mugello gravel traps everywhere
FIA race director Michael Masi insists it isn't possible for Formula 1 to apply gravel traps at every circuit as a solution to track limits as seen at Mugello.
The Tuscan Grand Prix hosted F1's first-ever race on the Italian track, where unlike several modern venues Mugello had gravel lining most of the circuit.
This prompted the race directors' notes to inform teams that track limits would be monitored at corners that each featured a gravel trap.
Track limits has been a major talking point this season, with the FIA taking a different approach to policing them at tracks featuring asphalt run-off areas.
McLaren driver Carlos Sainz didn't agree with the removal of artificial grass at Spa, stressing there was less of a penalty for drivers if they ran wide.
When asked if gravel traps could be used at a wider variety of circuits, Masi was clear it wouldn't be "appropriate" at every venue.
"No, we can't not have them everywhere," Masi said, as quoted by Motorsport.com. "It's not a one size fits all, as I've said this multiple times. We need to come up with the appropriate solutions with each of the circuit owners and operators.
"And we'll continue working through that. We've already discussed it with the drivers. So I think it's a bit much to ask. It's not the solution everywhere, let's put it that way."
Ferrari's Sebastian Vettel believes gravel would be a more straightforward option to solve the track limits debate, suggesting a strip of gravel could be placed between the circuit and a run-off area.
"I think as a driver you prefer the fact that if you go off, it gets penalised," Vettel said.
"I think it makes things a lot more straightforward. But I think you have to balance also the gravel against the asphalt in terms of if things go wrong.
"Maybe we can have an intermediate solution where you have a gravel strip initially, and therefore there is no point to go wide, and after that have asphalt for the benefit of having less run-off, bring the spectators closer to the track, and make it safer for us, so the cars slow down if you lose control or whatever.
"It's not an easy one, but for sure with all the asphalt around in some tracks, it does take away the character and make it a bit too easy to make mistakes."
---