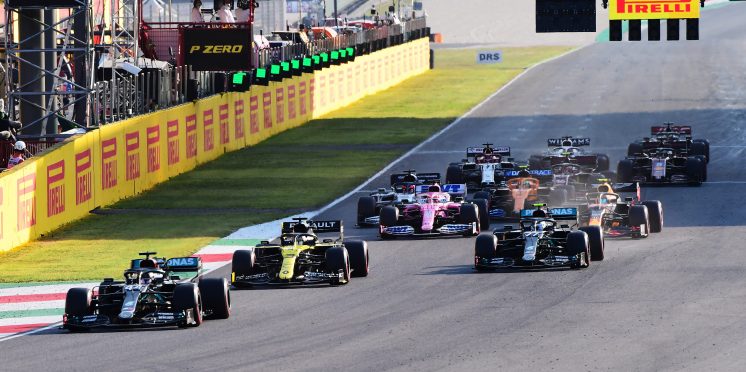 Vettel not a fan of 'lottery' standing restarts
Sebastian Vettel says he is not a fan of Formula 1's standing restart regulation, believing cars on the cleaner side of the grid gain a unfair advantage.
In the wake of separate incidents involving multiple cars during Sunday's Tuscan Grand Prix, a standing restart procedure went ahead after two red flag stoppages.
The system was also used at the previous race at Monza, but Vettel argued it becomes a "lottery" due to the unfair difference in grip levels on either side of the track.
"I don't remember when I've done so many starts in one day, normally I have one," Vettel told Sky F1.
"I have to say, I'm not a big fan of that rule, because if you're on the right side of the track it's a huge advantage.
"If you're on the dirty side of the track, we saw that at Monza already, halfway through the race there's a lot of marbles off the line. I don't think it's fair.
"I think we should focus on building the cars that can overtake and not throwing in the lottery."
Vettel came home in 10th place to score his first points since Spain, but had no answer as to why Ferrari was off the pace at its 1000 grand prix.
"We were not quick enough," he said. "Why? It's a difficult question to answer, there's more than one reason," he said.
"We know that our car is not quick enough. But I think we would have expected to have better race pace. We need to have a look."
A damaged front wing on the opening lap put Vettel at the back of the field, where the German was lucky to avoid the multi-car crash on the pitstraight at the safety car restart.
"We were quite lucky at the first re-start that we stayed out of trouble, lots of bits on the track," Vettel said.
"I don't know what happened, I guess the pace of the leader was not managed well, so the midfield was a bit confused but there was a lot of stuff happening today.
It's just unnecessary, I guess. As a leader you need to be aware of these things and slow down.
"If you want to wait, wait all the way and then speed up, but not do the stop and go stuff. It's the same in the motorway – five, 10 or 15 cars back, it most likely ends up in a crash."
---