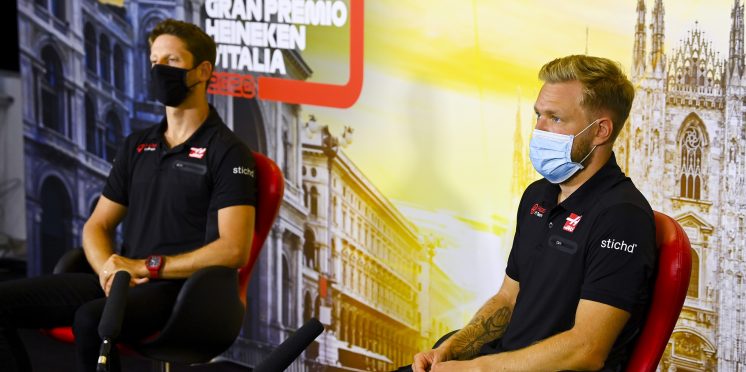 Steiner: 'Close to 10′ drivers on Haas' 2021 shortlist
Haas Formula 1 boss Gunther Steiner says the team is considering "close to 10" drivers for a seat in 2021, stressing every possible line-up is "on the table".
The American outfit's current drivers Kevin Magnussen and Romain Grosjean are only contracted until the end of the season, with neither having held talks over a renewed deal.
Haas made it clear it didn't want to take any decision regarding its future driver pairing until it was sure it wanted to commit to F1 in the long-term.
Having signed the new Concorde Agreement, the team can now focus on analysing all its options for next year, with Racing Point outcast Sergio Perez now a free agent after being replaced by Sebastian Vettel.
Asked if Perez is under consideration for 2021, Steiner said, as quoted by Motorsport.com: "We are speaking with everybody, and we need to see what we want to do and then decide what we are going to do. "I don't think there's many seats free in the moment anyway, so that is on my side.
"Everybody's considered, who is on the market. We lay everything on a table and then we see what we want. What do we want to do? Do we want to keep the drivers we have got? Do we want experienced drivers? Do we want to start with young drivers? Do we do a mix of it? Everything is on the table."
Steiner revealed he'd already discussed with Perez the possibility of driving for Haas next season, with the Mexican keen on staying in F1 if the project is right.
"I respect him a lot, you know what he did," Steiner said. "I mean, as [was] always said also with Sebastian [Vettel], it's a pity if we would lose him in Formula 1. The same with Nico Hulkenberg not being here.
"They're all good people. I don't know what we're going to do. I said, there are a lot of options there."
Steiner has previously stated he wants to put pen to paper on multi-year deals, given the upcoming 2022 regulations will mean stability would be an important factor.
Asked how many drivers Haas had on its 2021 shortlist, Steiner said: "There are close to 10.
"It is amazing what is around in the moment. That's why you see me very calm. Because there are only the 20 seats, and we have got 10 potential people which could do the job, which is good. Two of them we have got already."
---