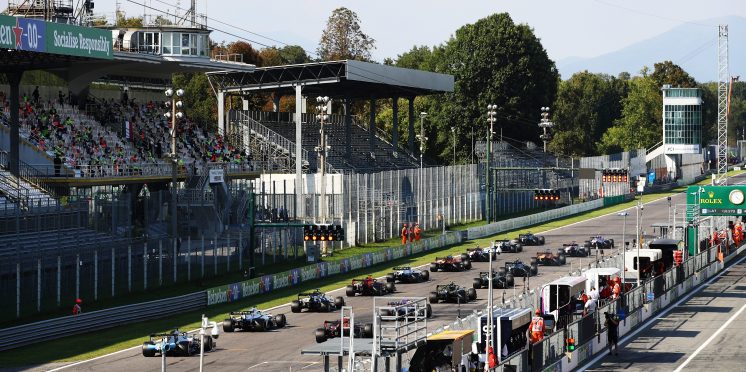 Brawn pushing to revive reverse grid sprint races concept
Formula 1 managing director of motorsports Ross Brawn believes Sunday's drama-filled Italian Grand Prix proves it is worth reviving talk of trialing reverse grid sprint races.
Monza delivered a shock result in a race where the usual front-running teams hit problems, allowing AlphaTauri's Pierre Gasly to claim a surprise maiden victory.
With Gasly joined on the podium by McLaren's Carlos Sainz and Racing Point's Lance Stroll, it marked the first race since Hungary 2012 to not feature a Mercedes, Ferrari or Red Bull driver on the rostrum.
Championship leader Lewis Hamilton's fightback through the field following a stop/go penalty has seen debate over running a reverse grid sprint race format in the future revisited.
F1 planned to trial the idea at three grand prix's this season in place of qualifying, but failed to gain unanimous backing from all teams as Mercedes blocked the concept.
Writing in the usual post-race column, Brawn revealed Monza was a circuit chosen to test a reverse grid race, and felt Sunday's event showed a mixed-up grid could deliver exciting on-track action.
"Monza was a candidate for a reverse grid sprint race when we were considering testing the format this year," Brawn said.
"Unfortunately, we could not move forward with it, but the concept is still something we and the FIA want to work through in the coming months and discuss with the teams for next year.
"We believe that yesterday's race showed the excitement a mixed-up pack can deliver and with next year's cars remaining the same as this year – our fans could be treated to the similar drama we saw this weekend at Monza.
"Of course, with a reverse grid sprint race, teams will set their cars up differently. Right now, Mercedes set their cars up to achieve the fastest lap and then to control the race from the front.
"If they know they have to overtake, they will have to change that approach.
"We will continue to evaluate new formats with the aim of improving the show but always maintaining the DNA of Formula 1."
With talks over the weekend format for 2021 set to commence in the coming weeks, the new governance structure under the recently agreed Concorde Agreement states unanimity is no longer required.
Instead a 'super majority' vote amongst F1, the FIA and all 10 teams can push through rule changes, meaning rejection by two teams won't prevent alterations being approved.
---