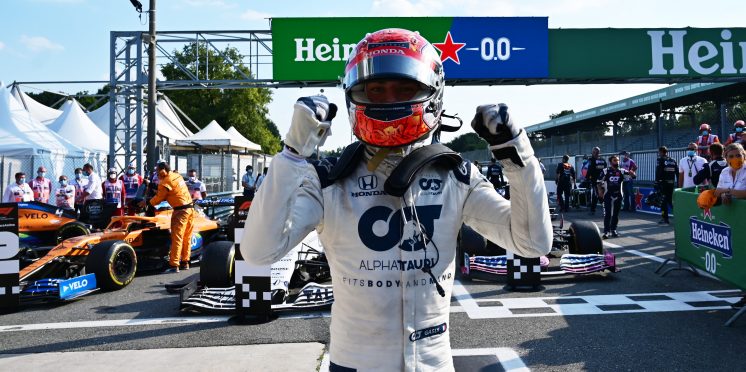 Tost hails Gasly's 'fantastic' drive, downplays talk of Red Bull return
AlphaTauri boss Franz Tost praised Pierre Gasly's unexpected maiden Formula 1 victory at Monza, but quashed talk the result would lead to an immediate return to Red Bull.
Despite a pitstop dropping him down the order, Gasly capitalised on a red flag stoppage to find himself in third place by the race restart.
Race leader Lewis Hamilton was forced to serve a penalty that saw Gasly inherit the lead, where he resisted a late charge from Carlos Sainz to secure a shock win by 0.4 seconds.
"I must say that Pierre drove a fantastic race without any mistakes," Tost said after the race.
"He could keep the distance to Carlos, he controlled everything. We had good luck with the red flag. We were also lucky because of the penalty with Hamilton, [but] I must say that the team did a fantastic job and Pierre drove a good race."
Tost revealed it had opted to risk running a higher downforce setup to aid tyre degradation, which, despite compromising straightline speed, proved a crucial factor in Gasly's victory.
"Carlos was a little bit faster in Sector 1 because he had less wing, but in Sector 2 we were better," Tost explained.
"And if in Sector 2 you cannot come close enough, then you also can't [attack into] the Parabolica, and after the Parabolica, in the slipstream, [you can't] do the overtake, and this was our advantage.
"We had a little bit more wing. We decided yesterday to go out with this additional flap, to [take] this risk, also regarding the tyre degradation – and it worked!"
Gasly's first win in just his 55th grand prix start proved a major landmark in his F1 career, just 12 months on from being dropped by Red Bull after a difficult 12-race stint in 2019.
The French driver flourished on his return to the then-named Toro Rosso team, claiming a podium finish at last year's Brazilian Grand Prix.
His Red Bull replacement Alex Albon, who struggled to 15th at Monza, is facing increasing pressure over his performances this season, but although there is speculation the pair could swap seats again, Tost was "quite optimistic" Gasly will remain at AlphaTauri in 2021.
"If we lose him [to Red Bull], that means the team did a good job, because otherwise they wouldn't take him," Tost said. "But currently, I'm quite optimistic that he will stay with us.
"He is very motivated. He was already last year when he came back from Red Bull. He came in my office and we greeted each other and he said, 'I feel like I was here yesterday, it's my family.'
"He liked the car he had already last year, quite a competitive car, and then from Spa onwards he improved his performance. And then in Sao Paulo, he finished second.
"Today, he drove a really brilliant race, because he was in the lead, and he controlled it. When Carlos came a little bit closer, then he improved his speed in Sector 2, got 1.2 to 1.5 seconds [gap] and this was good. He controlled the gap to the end and this was really good."
---