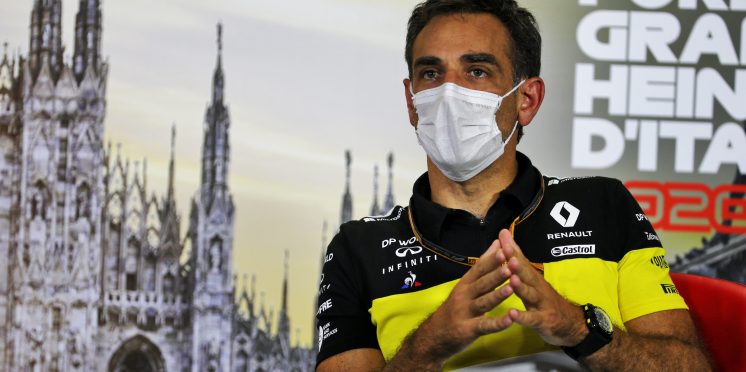 Renault: Red Bull 'missed a trick' not building its own engine
Renault boss Cyril Abiteboul believes Red Bull has "missed a trick" in always being independent from its Formula 1 engine suppliers.
Red Bull joined F1 in 2005 after its takeover of Jaguar, taking only five years to win a both world championship's that began a period of dominance in the early 2010s.
But the Milton Keynes-based outfit hasn't won a title in seven years, and is on the back foot once again this season as it plays catch-up to Mercedes.
In recent years, Red Bull has made a habit of being slow out of the blocks at the start of a campaign, which Abiteboul puts down to the team not having its own engine division.
Speaking at the Italian Grand Prix, Abiteboul suggested Red Bull's reluctance to have an approach of a team with "one mindset" has hurt them.
"I think Red Bull is a fantastic team but in my opinion Red Bull has missed a trick of modern Formula 1, where you can't have a chassis organisation and an engine organisation that are so distinct," he said, as quoted by Motorsport.com.
"You can't think of that, if you want to fight for wins in a consistent manner.
"So probably the struggles that it can face at the start of the season, but eventually even across all of the season, is a demonstration of that: you really need to be one group of people, one team, with one mindset."
Having fronted Renault's engine operation when it was supplying Red Bull, Abiteboul believed the team's current situation explains what led to the eventual Red Bull-Renault divorce in the hybrid era.
"We have failed to do that all together," Abiteboul said. "It just looks like they [Red Bull] are not able to do much better with Honda.
"But it just shows that there's a level of complexity and perfection that is required in Formula 1 in order to win and in particular to beat Mercedes."
---