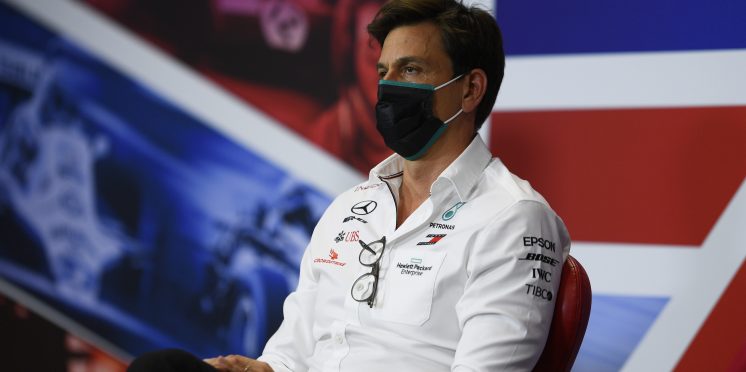 Wolff 'happy to go to court' to defend Mercedes' innocence in brake duct row
Mercedes boss Toto Wolff is not concerned about his team's involvement in Racing Point's ongoing brake duct saga, insisting he's "happy to go to court" to prove its innocence.
Following a hearing leading up to the 70th Anniversary Grand Prix, the FIA stewards upheld Renault's protest of the legality of Racing Point's 2020 car, ruling it had breached Formula 1 regulations concerning the design process of its rear brake ducts.
The decision resulted in Racing Point being handed a 15-point deduction and a €400,000 fine, but despite copying Mercedes' rear brake ducts design it is permitted to continue using them to the rest of the 2020 season.
This has caused controversy among Racing Point's rivals, with Renault, Ferrari, McLaren and Williams appealing for a more severe penalty to be applied.
Racing Point itself has lodged an appeal to further clear the team of any wrongdoing, with all teams ordered to formalise their intended protests by Wednesday morning in order for the case to go to the Court of Appeal.
Speaking after Sunday's race, Wolff said he has "zero worries" about his team being involved in the case, and felt assured its reputation won't be affected.
"We have not been protested. We have done nothing wrong," Wolff said, as quoted by Motorsport.com. "I strongly believe that Racing Point has done nothing wrong.
"I believe that if this goes to the International Court of Appeal, the lawyers and the barristers have a strong opinion that this is a case that has very, very solid pillars, and therefore everybody's in a good place about that.
"I'm speaking to Ola [Kallenius, Mercedes' chairman] every single day, we're speaking about good things and bad things. Obviously our reputation is very important, but it is intact.
"If someone thinks that we have done something wrong, they should protest, and we're happy to go to court."
F1 ruled brake ducts would no longer be a non-listed part from January this year, as it was revealed Mercedes continued to supply Racing Point with key parts six days after the rule change.
Mercedes is also believed to have supplied the Silverstone-based outfit spares during winter testing, despite the fact teams are now required to design the components themselves.
"I'm sure those questions will get asked because of the team in question are guilty of receiving, surely the team that has provided has been also in breach of those regulations. But that is something for the FIA to deal with." said Red Bull team principal Christian Horner, as quoted by Crash.net.
"The biggest thing for us is we want absolute clarity on what is and what isn't permissible moving forward.
"Obviously Red Bull is in the unique position that they own 100% of two grand prix teams. We've always complied stringently with the regulations since the constructor rules in the last Concorde were made clear.
"For us there's a bigger picture to this, it's not just about brake ducts, it's about what is philosophically allowed and what isn't'."
---