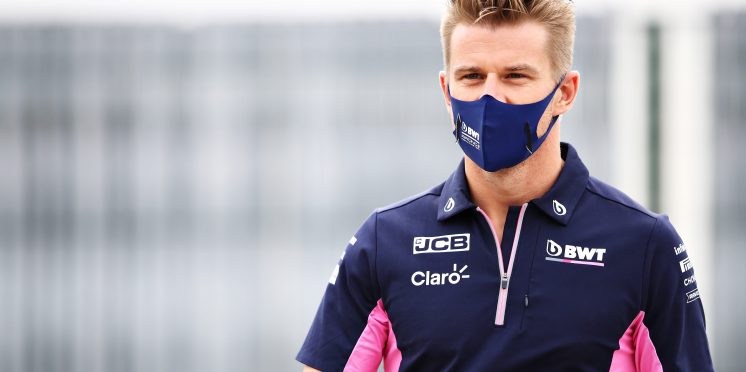 Brawn: Hulkenberg was Mercedes' second choice behind Hamilton for 2013
Formula 1 managing director of motorsports Ross Brawn has revealed Nico Hulkenberg was his "next choice"  after Lewis Hamilton to join Mercedes in 2013.
Hulkenberg returned to the F1 grid as a stand-in for Sergio Perez at Racing Point when the Mexican was ruled out of both Silverstone races after testing positive for COVID-19.
Despite his last-minute call-up, Hulkenberg earned plaudits for his performance over the double-header. He recorded his best qualifying result since 2016 with third in qualifying, before going on to finish seventh in the race.
Hamilton opted to leave McLaren in favour of a switch to Mercedes, who Brawn was in charge of at the time he signed at the end of 2012, to replace retirement-bound Michael Schumacher.
Hulkenberg had starred for Force India over the 2012 campaign, leading the season-ending Brazilian Grand Prix for over 30 laps, but joined Sauber for the following year.
In his latest column after the 70th Anniversary Grand Prix, Brawn complemented Hulkenberg's performance, and confessed the German was the second driver shortlisted to partner Nico Rosberg.
"It was going to be an incredible physical challenge for Nico Hulkenberg and I don't know how much he hurt at the end of the race, but it was great performance all weekend by someone who had just been dropped in the deep end," Brawn said.
"I almost signed him years ago, when I was in charge at Mercedes. If Lewis hadn't joined Mercedes when he did, Nico was our next choice.
"I've always respected Nico enormously as a driver. He's a very strong driver who should be in Formula 1."
Despite being without a full-time F1 drive, Hulkenberg said leading up to the weekend he'd been in discussions with various teams over a seat for 2021.
---