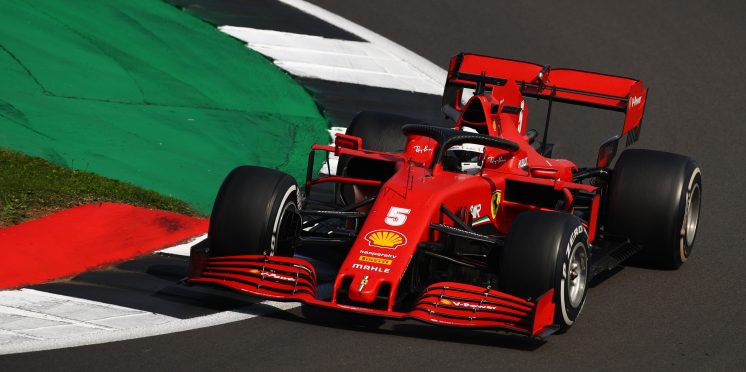 Binotto denies Ferrari 'penalised' Vettel on race strategy to aid Leclerc
Ferrari Formula 1 boss Mattia Binotto says the team did not penalise Sebastian Vettel on strategy during the 70th Anniversary Grand Prix, despite the German's frustration mid-race.
Vettel endured another challenging weekend where he failed to progress to Q3 in qualifying before spinning on the first lap and dropping to the back of the field.
From there the four-time world champion struggled to recover as he found himself stuck in the midfield, eventually finishing a lowly 12th by the chequered flag.
But it was Ferrari's strategy calls that led to Vettel venting his frustration over team radio, saying: "You know that you've messed up."
Vettel questioned post-race the decision to run a shorter stint on the hard tyre, which he claimed "didn't make any sense".
"Well we spoke this morning and said there was no point pitting knowing that we will run into traffic – and that's exactly what we did," Vettel said.
"We went also onto a hard tyre, which we then only had on for ten laps, probably not even that, so it didn't make any sense.
"I mean why would you put the hard for ten laps and put the medium for 20 laps? So I was running out of tyres towards the end, so we spoke about exactly that."
Speaking to Sky Italia after the race Binotto understood Vettel is lacking confidence with this year's car, but said his spin at Turn 1 after hitting a curb hurt his race more than strategy.
"I don't think Sebastian has lost faith," Binotto said. "He is going through a difficult time in qualifying and the last two races where he hasn't found confidence in the car. Here, he spun putting his wheels on the kerb, and his race was uphill.
"I honestly think there is little to say about strategies. We [were early] perhaps by a few laps with the call that made him lose the position to [Kimi] Raikkonen. However, we knew he would recover without losing time.
"It allowed Charles [Leclerc] to continue his comeback. Overall, it was the right choice for the team and we don't think we penalised Sebastian. He regained [the position] immediately on Kimi, he wouldn't have been able to do an overcut on [Daniil] Kvyat, because he was going as fast as he was at that time, and then he undercut [Carlos] Sainz.
"His race was compromised at the start, and I think that was the key, not the strategy chosen."
Vettel has now failed to score in two of the opening five rounds this season, with a best finish of sixth in last month's Hungarian Grand Prix.
The poor start to the campaign sees him languishing 13th in the drivers' standings, 35 points adrift of team-mate Charles Leclerc who sits in fourth having claimed two podium finishes.
---