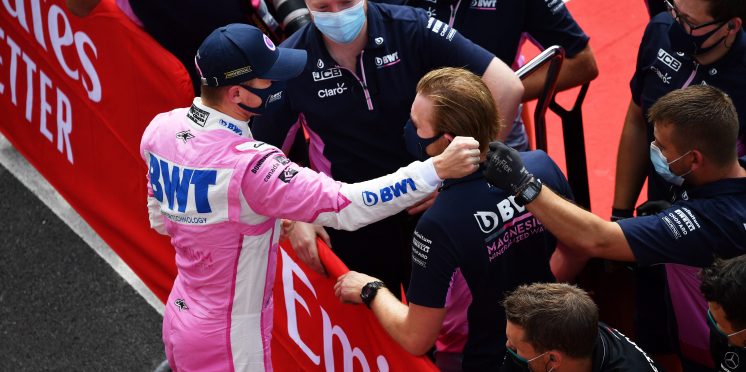 Hulkenberg 'surprised' with best grid slot since 2016
Nico Hulkenberg admits he was "surprised" to line up third on the grid for tomorrow's 70th Anniversary Grand Prix at Silverstone having feared he'd damaged his car earlier in the session.
Hulkenberg was only confirmed to be driving this weekend in place of Sergio Perez on Friday morning, with the German parachuted in last-minute the week before only to miss the British Grand Prix with an engine issue.
On the first run in Q2 Hulkenberg ran wide on the exit of Becketts leaving him 14th and in danger of being knocked out.
But mastering his second lap saw him jump up to second place to grab a spot in the Top 10 shootout, where Hulkenberg went on to pip Red Bull's Max Verstappen for a second row starting position – his best since Austria 2016.
"A crazy last seven, eight days or whatever it is now," Hulkenberg said. "Last week the high to come back, and then the low on Sunday, so very extreme. This weekend I felt much better obviously, in the car, much more prepared.
"Qualy was still tricky. In Q2 I made life hard for myself a bit, and I was a bit scared that I damaged the car.
"And then Q3 was just head down, full beans, whatever I had. A bit surprised to be honest to stand here, but obviously a big smile on my face. But also a lot of respect for the race tomorrow."
Having not started a grand prix for over eight months, Hulkenberg conceded with his limited preparation he is likely going to endure a tough race physically.
"That's definitely going to hurt some more, not having last week's experience, and not having gone through the motions there with the start and everything, because it's still new with this car," he said.
"But we'll do what we can. I'll try to learn fast and to keep the car where it deserves to be."
Hulkenberg admitted on Thursday his return to Formula 1 as a stand-in for Perez had seen him in discussions with various teams over a drive for next year.
Asked if his qualifying performance had improved his chances of a 2021 seat, Hulkenberg said: "Well it's only Saturday, there's always Sunday obviously that matters most. It's definitely one of those nice little highlights, but it's no time to cheer yet, because tomorrow is the big day."
---