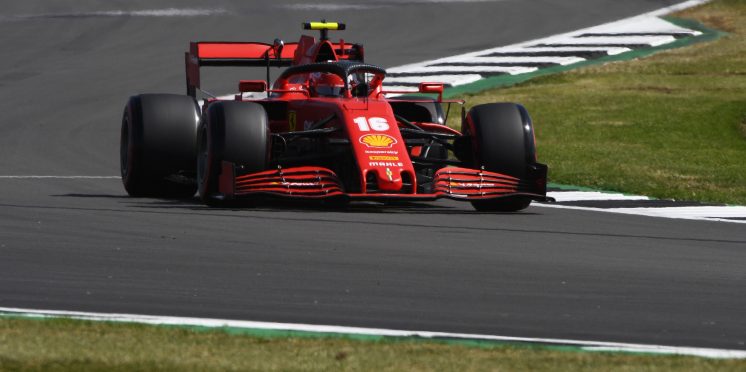 Eighth a 'more realistic' indicator of Ferrari's pace, says Leclerc
Charles Leclerc says eighth in qualifying for the 70th Anniversary Grand Prix is a  "more realistic" representation of where Ferrari's current pace deficit lies.
During last weekend's British Grand Prix Leclerc wrestled his Ferrari onto the second row before bagging a surprise podium on race day, but endured a much tougher qualifying this time around.
Formula 1's sole tyre supplier Pirelli has gone a step softer on its compounds for this round, a change that looks to be contributing to the Italian team's lack of outright speed compared to its nearest rivals.
Despite being unable to match his performance from the first Silverstone weekend, Leclerc wasn't shocked to be four places lower.
"Surprise? No. I think it's a bit more realistic picture for us to be honest. We have been struggling more than last week here, especially with the softer tyres," Leclerc told Sky Sports F1.
"We seem to be more aggressive on them and and we don't even manage to finish the full lap in Q3 with the soft tyres. They are dropping off quite a lot in the last sector. I lost quite a lot of lap time there, so not much we can do for now. It's like this."
A low downforce set-up was key to Ferrari's performance at the British Grand Prix, but Leclerc felt this had made the team's life more difficult on the softer Pirelli rubber.
As a result, Leclerc is braced for a challenging afternoon on Sunday, but with strategy likely to play a major part he refused to give anything away on his preferred choice of pitstops.
"Tomorrow will be a very difficult race," he said. "It's hard to finish the qualifying lap, and it will be very difficult to keep up with the others in the race. But we remain optimistic. I will try my best and see where we end up.
"I think there will be drivers who will take risks and try to make only one pit stop tomorrow, while others will make two. I can't say which strategy we will choose, but we have analysed the data and we are sure about which strategy to adopt."
---