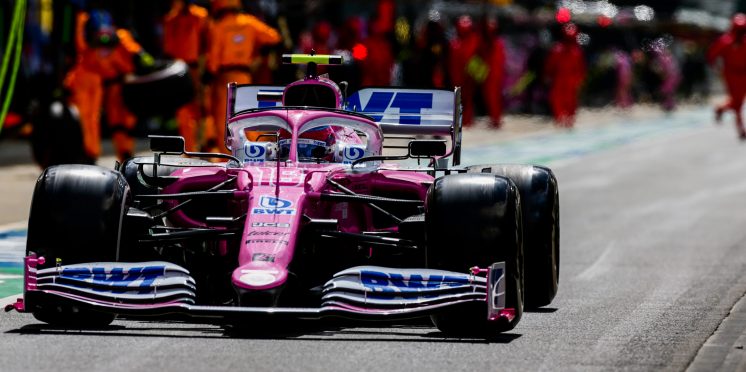 Racing Point docked 15 points, receive fine as Renault protest upheld
Racing Point has been docked 15 constructors' points and handed a 400,000 euro fine after Renault successfully protested the legality of the team's 2020 Formula 1 car.
The legality of the RP20 has been a running saga since it broke cover back in winter testing, as it struck an uncanny resemblance to the championship-winning Mercedes W10 from last year.
Although rivals immediately questioned the design, Racing Point was adamant it was done so within the regulations. But following the Styrian, Hungarian and British Grand Prix's, Renault lodged a protest in relation to the RP20's brake ducts.
Renault believed Racing Point had in fact directly copied the brake ducts from the Mercedes, which – due to a rule change for 2020 regarding listed parts – is not permitted.
On Friday morning at Silverstone the stewards revealed their verdict, confirming Racing Point had not complied with F1 design rules, thus upholding Renault's protest.
As a result the FIA chose to deduct 7.5 points from each car in the Styrian Grand Prix, as well as a 200,000 euro fine per car. The team's points from Hungary and Great Britain remain intact, although it was reprimanded having run the brake ducts at both events.
Racing Point claimed they had enough evidence to prove they had designed the brake ducts from scratch, but this was not accepted the FIA in their investigation.
It was revealed what while the front brake ducts had been a evolution from the 2019 car, the rear brake ducts had been heavily-based on Mercedes' concept which is illegal.
"Since the RP20 RBDs [rear brake ducts] were not run on the RP19 in 2019 and since the Stewards believe that the design effort expended by Racing Point in adapting the RBDs originally designed by Mercedes for the W10 pales in comparison to the significance of the original Mercedes work, the Stewards conclude that the principal designer of the RP20 RBDs was Mercedes, not Racing Point," the statement said.
Although the FIA concluded Racing Point had gained a competitive advantage using Mercedes' design, it conceded it was not possible for the outfit to re-design the brake ducts.
"The Stewards acknowledge that since the RBDs are compliant with the 2020 FIA F1 Technical Regulations, it is not realistic to expect Racing Point to re-design or re-engineer the BDs in a way that would effectively require them to "unlearn" what they already know," the FIA added.
"Therefore, the penalty imposed is intended to penalize the potential advantage Racing Point may have accrued in the BD design process which resulted in the use of LPs which were not designed by it."
As Racing Point was only in breach of the sporting regulations, the FIA decided a harsher punishment was not necessary.
Racing Point has been given a period of 24 hours if it wishes to submit an appeal.
---