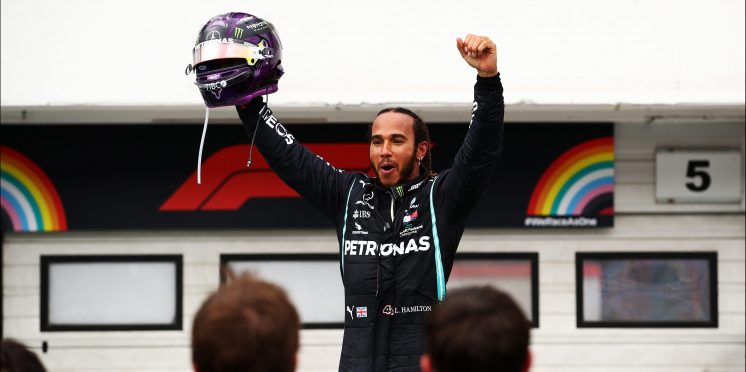 'Clean as a whistle' Hamilton better than Schumacher or Senna, says Walker
Ex-Formula 1 commentator Murray Walker believes Lewis Hamilton's "clean as a whistle" driving style makes him a greater driver than both Michael Schumacher and Ayrton Senna.
Hamilton is closing in on becoming statically the most successful F1 driver of all-time, with the Briton's 87 career victories just four short of Schumacher's record.
The Mercedes driver, who already holds the record for most pole positions with 91, is on course to equal Schumacher's seven drivers' titles having extended his championship lead to 30 points after winning three of the first four races this season.
Speaking on the Australian Grand Prix's In the Fast Lane podcast, Walker, dubbed by many as a the voice of F1, said Hamilton's fair approach to racing makes him stand out amongst other generations of world champions.
"Fangio took a lot of beating, [as did] Jim Clark, Sir Jackie Stewart — I could go on — but which is the best I really don't know," Walker said.
"I used to say Fangio. I think I'm going to have to say very shortly Lewis Hamilton.
"If you look at it in terms of statistics, he's already got more poles than Michael Schumacher. He's got at least three years in him if he doesn't hurt himself or leave Mercedes for some reason or they decide to stop.
"In which case, he's got at least another three championships ahead of him, so statistically he will become the greatest.
"But he's also in my opinion – and this is very contentious indeed – better than either Schumacher or Senna because both of them, Schumacher and Senna, adopted at various times in their career, highly debatable driving tactics.
"Like Schumacher stopping deliberately at Monaco to prevent [Fernando Alonso] getting pole position, like Schumacher colliding with Villeneuve at Jerez in 1997, like Senna with [Alain] Prost in 1990 in Japan.
"Lewis Hamilton has never been anything like that. He's always driven as clean as a whistle.
"He's an extremely nice, gigantically talented driver, and I don't think we've ever seen anybody like him before."
Hamilton victory at last weekend's British Grand Prix was his seventh at Silverstone, in a race that provided a dramatic conclusion due to the tyre failures in the closing stages.
Asked how he would have reacted had he been calling the race, Walker said: "Gosh, I would have gone absolutely bananas, through the roof of the commentary box, I should think!
"Because it has to be one of the most exciting finishes of all time when you think about it, Lewis coasting home to victory, and then all of a sudden it looks as though he's coasting home to nowhere."
---