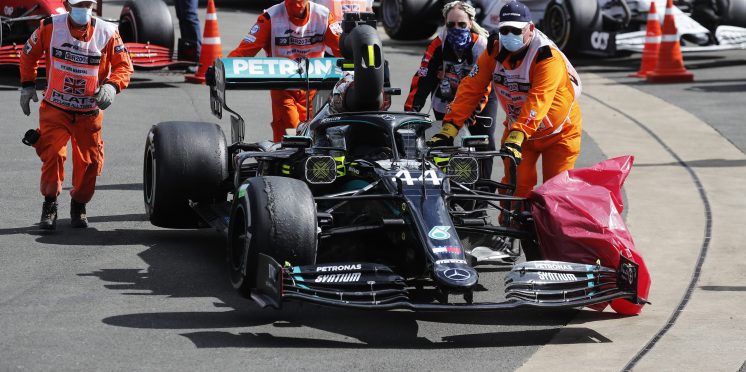 Pirelli to launch investigation into British GP tyre failures
Pirelli Formula 1 boss Mario Isola confirmed it will be investigating the cause for three separate tyre failures during the closing stages of the British Grand Prix.
Race winner Lewis Hamilton, Valtteri Bottas and Carlos Sainz all suffered a spectacular delimitation of the front-left tyre within the final three laps of the grand prix.
Bottas, who was running second to Hamilton, was the first to experience a puncture on Lap 50 of 52, dropping him out of the points by the chequered flag.
Sainz was on course for a fourth place finish when his tyre failed heading into the Maggotts and Becketts complex, forcing him to pit.
Hamilton, despite receiving a message to manage his tyre after team-mate Bottas' failure, suffered the same fate with half a lap to go, but limped over the line five seconds ahead of Red Bull's Max Verstappen to take victory.
Isola stressed it was too early to conclude what resulted in each puncture, but pointed out debris from Kimi Raikkonen's front wing could have played a role.
"We will obviously investigate what happened in the last few laps," Isola said, as quoted by Motorsport.com. "It's a bit early now to give you any conclusion. It could be high wear, because for sure tyres with 38 laps or more on this circuit are quite worn, but I'm not saying that the wear is the cause of the issue.
"It can be debris, because we had the pieces of the front wing of Kimi that were on track, but also some other debris. So that's why we want to investigate not only the tyres with a failure, but all the tyres used in the last few laps of the race, to understand if we find any other cut or any other possible indication on what happened.
"We don't want to exclude anything, we want to analyse everything 360 degrees and avoid excluding any possibility because it's a big mistake when you make these kinds of investigations. We have to consider all the possibilities.
"What we can do is to analyse the tyres from the race to understand if there is anything in the construction that was subject to excessive stress, or whatever, but this is one of the investigations."
A safety car period due to Daniil Kvyat's accident saw drivers run longer stints on the hard compound tyre than expected when most pitted around lap 13.
Isola acknowledged the importance of concluding the investigation as soon as possible with Silverstone holding a second race this weekend.
"We have the possibility to do some analysis in our laboratory here on track," he said. "It is clear that we don't have a lot of time to carry on with the investigation, because we have another race in less than one week.
"So, we have to come to a conclusion as soon as possible. The target is to have something more fully by tomorrow, or Tuesday at the latest. So that is the plan.
"If there is the need to run any tests that are not possible to run here on track we will send the van quickly to Milan where we have our facilities, laboratories, indoor testing, with obviously more possibilities, more testing we can do there. But I'm confident that we can have some good indication from the laboratories that we have here on track."
Pirelli announced prior to the double-header it would bring a softer compound of tyres to the second event. Isola insists it won't need to rethink its choice of compounds.
"There are a number of question marks at the moment and depending on which is the cause of the issue, we have to react appropriately," Isola said.
"But the reaction can be different if we are talking about the wear, for example, it doesn't matter if we go with the same compounds we use today, or the softer compounds, each tyre has a maximum number of laps that depends on each car. Each car is different."
---