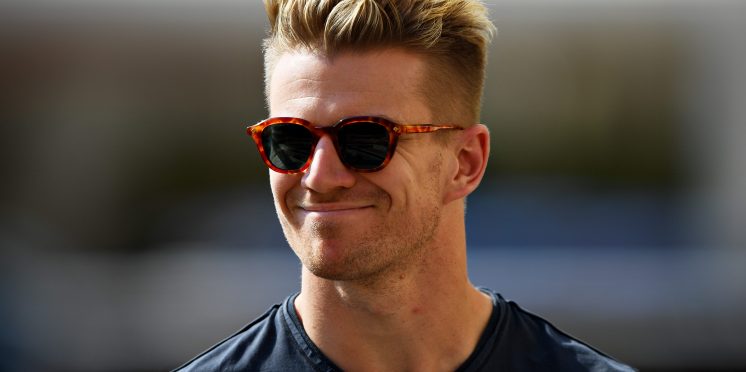 Hulkenberg to replace Perez for British GP
Nico Hulkenberg has been confirmed as Sergio Perez's replacement for this weekend's British Grand Prix following the Mexican's positive COVID-19 test on Thursday.
Perez conducted a regular pre-race coronavirus test as part of Formula 1 protocols that came back as inconclusive forcing him to await a retest, which later confirmed he'd tested positive for the virus.
Racing Point revealed Perez is "feeling well" as he follows the UK's quarantine restrictions where he will isolate for 10 days, ruling him out of both back-to-back races at Silverstone.
Perez himself said he'd shown no symptoms but admitted he'd flown back to Mexico to visit his mother who was injured in a road accident, and called the outcome "one of the saddest days in his career".
The development has forced Racing Point to find a driver to fill Perez's seat for the Silverstone double-header, with the team having looked at who was available to them.
As per an agreement with Mercedes both of its revere drivers Stoffel Vandoorne and Esteban Gutierrez were options, although Vandoorne was an unlikely candidate due to Formula E commitments.
Instead the Silverstone-based outfit has chosen to reunite with Hulkenberg, who raced in two stints for the team in 2012 and 2014-2016.
The German has been out of action since leaving Renault at the end of last season, but has vast experience of driving the current V6 hybrid cars, taking part in 179 grand prix's to date.
A statement released by Racing Point read: "Nico Hulkenberg will drive for BWT Racing Point F1 Team in this weekend's British Grand Prix, lining up alongside Lance Stroll.
‍"Nico's experience of racing in contemporary Formula 1 and his strong track record ensure he is the ideal driver to stand in for Sergio Perez this weekend.
‍"In a bid to minimise disruption and ensure the best possible chance of building upon the team's strong start to the 2020 campaign, Nico's familiarity with the team will prove invaluable.
‍"Nico's association with the team began in 2011 as reserve driver, before graduating into a race seat for 2012.
‍"He raced for the team between 2014 and 2016 as a regular Top 10 finisher in the Drivers' Standings.
‍"His 177 Grand Prix starts make him the 25th-most experienced F1 driver, and he was racing in the sport as recently as 2019."
It is understood to compensate for his tall stature, Hulkenberg will use one of Lance Stroll's seats for the event.
---