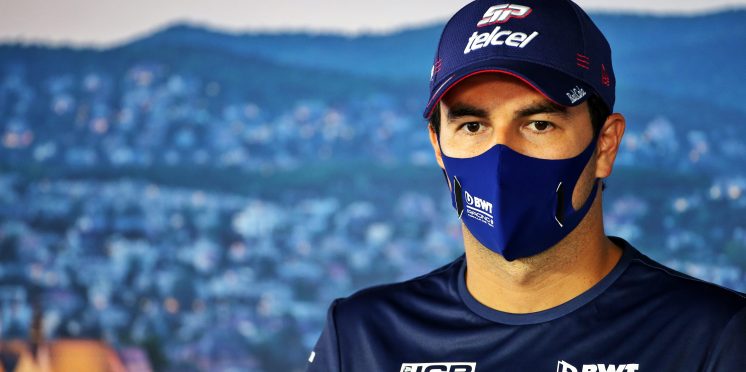 Szafnauer: Racing Point will consider Perez's loyalty in 2021 decision
Sergio Perez's loyalty will be a key factor in Racing Point's evaluation over whether it will decide to retain him for next season, says team principal Otmar Szafnauer.
Perez joined the Silverstone-based outfit under its previous guise as Force India in 2014, and has been played an important part in its rise ever since.
When the team hit financial trouble in mid-2018, Perez was instrumental in securing its future in Formula 1, allowing it to enter administration and be saved by new investors.
With plans for a new factory taking shape and its rebranding as Aston Martin in 2021 already confirmed, Perez committed his long-term future to the team last year.
However, Sebastian Vettel, who is a free agent after his split from Ferrari, is understood to have held discussions with Racing Point over a seat for next season.
Although Szafnauer stresses his drivers have contracts, Perez has a break clause that would allow the team to move him aside for Vettel.
Asked if Perez's loyalty, plus his role in helping the team survive, would be considered when deciding whether to keep him on next year, Szafnauer said, as quoted by Motorsport.com: "I think the fact that he has got a signed contract will be a key factor that means we keep him.
"But I know what you're asking, and Sergio has been loyal to us. He's been here for a long time. He's a great racer, works well with the team and he works well with Lance [Stroll] and he helps Lance so I'm sure all those factors do matter."
Perez has acknowledged that if Vettel is chosen for a 2021 seat the likelihood is that it would be him and not team-mate Lance Stroll who is forced out.
Although Stroll has been consistently outperformed by Perez since joining the outfit last year, his fourth place finish in Hungary drew praise from Szafnauer.
"This is exactly what Lance needed," he said. "It's a confidence builder for him. And we always knew that he's got the speed and the talent, but when he actually does it under pressure then in his mind he knows he can do it.
"It's not just us telling him. He did a great job, a lot of good laps and good learning."
Asked about the Canadian's development as a driver since his arrival, Szafnauer said: "I mean there's a lot of things to learn, including our car, the way the engineering team works, how we share data, how to treat the tyres.
"It's about knowing what to do on your out lap, how to work with your performance engineer, and all those things don't happen overnight.
"It takes experience, and he's learned all those things. We've also spent a lot of time understanding how to drive this tyre, setting the car up around the tyre, and we can help Lance with all those things.
"He's learned very quickly. And as you can see, the performance has followed suit. There's more to come from him as well."
---