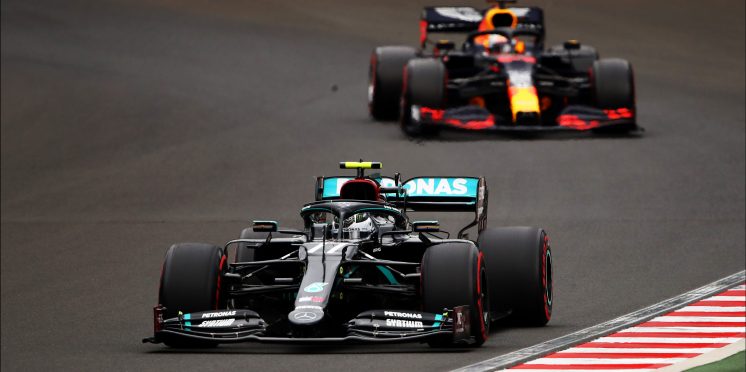 Mercedes expects gap to close 'very quickly' once rivals sort out issues
Mercedes says it anticipates its early-season margin to be slashed "very quickly" as soon as its nearest rivals get on top of their current car troubles.
The German manufacturer has looked in formidable form during the first three races of the heavily-delayed campaign, securing consecutive victories in both Austria and Hungary.
Despite stability in the regulations Mercedes looks to have widened the gap to the chasing pack, with the true pace of the W11 shown last time out in Hungary when Lewis Hamilton lapped everyone up to sixth place en route to victory.
While it has proved dominant so far, Mercedes has refused to get complacent with its performance, which the team's technical director James Allison believes is being made to look "remarkable" due to its competitors facing issues.
"In qualifying we looked very strong for a couple of races now," Allison said, as quoted by Motorsport.com.
"The race day though is tougher. The margin is not the same size in the race that it has been in qualifying.
"We're a sneak ahead than we were in the overall power of the team this year than we were the year before. However, I would say that that might be more to do with the competition having a little bit of a tougher time, rather than us having done something remarkable.
"And the relevance of that is that normally you can fix something that has gone a little bit wrong, and so the gap might be big now, but it will close down very quickly, [for example] if that sort of snappiness that you sometimes see on a Red Bull can be softened."
Although it is unbeaten so far this season, Mercedes remains cautious over the W11's form in warmer conditions, which was exposed at the season opener in Austria.
Allison stressed there is still concern within the Mercedes camp as to whether its performance will be as effective should it race in higher temperatures later in the year.
"I'd note that we've had two quite cool tracks," Allison said. "So far it was warmish in the first race of the year. But that was also the race where we were least convincing.
"So we would like to find out just how swift we can be when the track is roasting hot, and whether or not we can still show the sort of tyre management and pace under those conditions that we've been lucky enough to show in the opening races of the year."
---