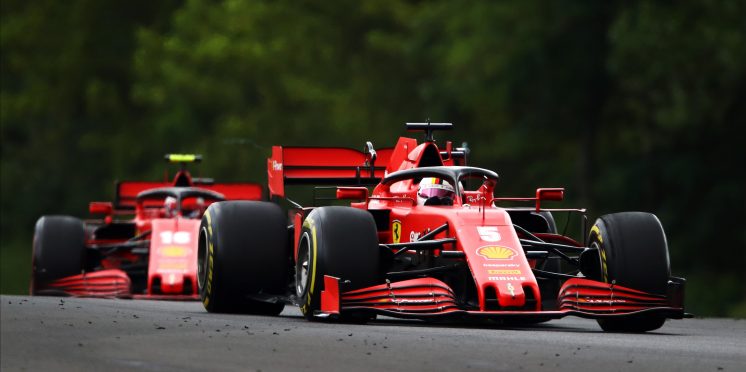 Binotto: Ferrari won't make F1 car faster by sacking personnel
Ferrari Formula 1 boss Mattia Binotto has stressed sacking team personnel is not the answer it needs to overturn its poor start to the season.
After three races Ferrari has made it worst start to a campaign since 2009, with the team managing only three points finishes and sitting fifth in the constructors' championship.
The SF1000 has dramatically dropped in performance compared to its predecessor, in part due to the FIA's clampdown on the engine regulations where Ferrari excelled last year.
As a result Ferrari has fallen away from the pace-setting Mercedes, who lapped both its cars in last Sunday's Hungarian Grand Prix, and has instead found itself in unfamiliar territory fighting the midfield teams.
While its on-track struggles has drawn criticism from the Italian media, Binotto is optimistic it is heading in the right direction, but insists sackings are not part of the long-term plan for future success.
"I have confidence in the people who work in the Gestione Sportiva: we have started out on a long process that should lead to another winning cycle," Binotto told the Ferrari website.
"It will take a while, but the whole company understands and supports this vision. That's why I find it amusing to read some stories that are doing the rounds: it's not by sacking people that you make a car go faster…"
Ferrari is now trying to gain an understanding of the where the issues lie in this year's design that has left in a worse position that it was expecting going into the season.
Binotto acknowledged there is no "magic wand" that can make Ferrari's problems disappear, as he admitted there may need to be major changes in order to improve its workforce.
"After three races, it's clear that we are in worse shape than we expected and we need to react without delay," he said.
"The entire car project has to be revised, while taking into consideration the limits currently imposed by the regulations.
"I am well aware there is no magic wand in Formula 1, but we have to step up a gear to turn things around, both in the short and the long term.
"It might also be necessary to look at our organisation to improve and strengthen our working methods where the need is greatest. But first, as a team, we need to understand the dynamic that led to this situation."
In response to a difficult opening three races, Ferrari announced it would be restructuring its whole technical team, creating a new performance development department.
It will be overseen by long-time Ferrari aerodynamicist Enrico Cardile, previously head of aerodynamics and vehicle project management.
Ferrari says the restructure aims to "render it more effective and assure a more holistic emphasis on performance development" by "instituting a chain of command that is more focused and simplified and provides the heads of each department the necessary powers to achieve their objectives."
---