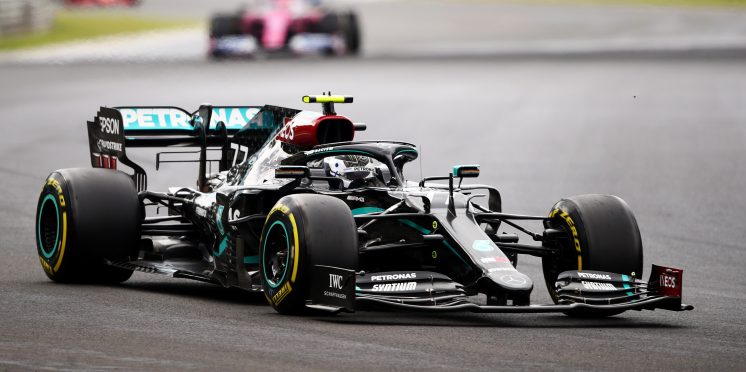 FIA explains why Bottas avoided penalty for jump start
FIA Formula 1 race director Michael Masi has revealed why Valtteri Bottas wasn't penalised for an apparent jump start during Sunday's Hungarian Grand Prix.
Bottas, who started alongside Mercedes team-mate Lewis Hamilton on the front row, appeared to move forward in his grid slot before stopping and starting again.
Onboard footage clearly showed the Finn moving before the lights had gone out, which promoted Ferrari's Sebastian Vettel to inform his team that Bottas had jumped the start.
The incident was similar to last year's Japanese Grand Prix, where Vettel himself was adjudged to have inched forward ahead of all five lights going out but escaped punishment.
Explaining the decision to not hand Bottas a penalty, Masi said, as quoted by Motorsport.com: "There are two parts to that.
"The means by which a false start is determined is actually clearly determined in the sporting regulations, and has been the same process for a number of years, which is the transponder that's fitted to each car is the judgement mechanism.
"There is a sensor in the road, in the track, as well. There's a tolerance within that, and as we saw in Japan last year, that is the determining factor.
"So there was nothing further to have a look at. We spoke to the timekeepers immediately, and they reviewed all the data, and that was the end of the matter."
Bottas later confessed he'd reacted to a light on his dashboard, which dropped him to sixth place by Turn 1 before recovering to third, finishing just 0.7s behind Max Verstappen at the finish.
"It was a pretty bad race for me, to be honest," Bottas said. "Starting second obviously, you aim to win the race. I lost it at the start.
"I reacted to a light on my dash that went off, I don't know what it was, but something changed on my dash, so I reacted to that instead of the start lights, so I got anti-stall, so then I had to do the start again.
"I lost it there. No problem but obviously I lost many places, and made the race difficult for me. Fighting to the end, it was pretty close with Max, but still good points."
---