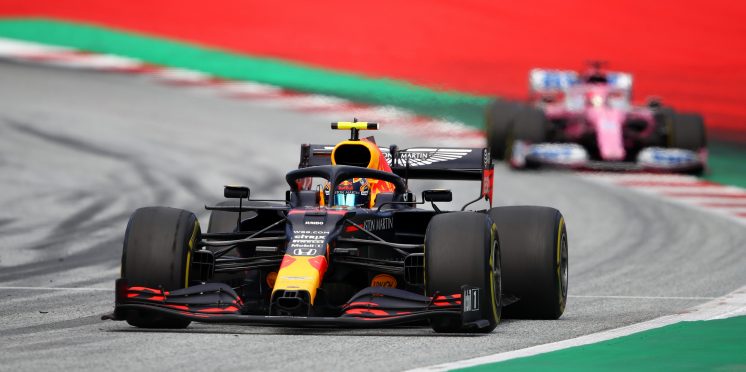 Horner defends Albon over margin to Verstappen in Styrian GP
Christian Horner says questions over why Alex Albon was significantly slower than team-mate Max Verstappen during his opening stint in the Styrian Grand Prix shows people in Formula 1 have a "short memory".
Albon endured a tricky second weekend at the Red Bull Ring having been on course for a podium, and potentially a victory, at the season opener before colliding with Lewis Hamilton late on.
The Anglo-Thai driver was outpaced by Verstappen in both dry and wet conditions qualifying six-tenths adrift of the Dutchman in qualifying, which could have increased had Verstappen not spun on his final lap.
Climbing up to fourth place in the early laps, Albon struggled to stay in touch with Verstappen and the Mercedes pair of Hamilton and Valtteri Bottas prior to his pitstop.
He survived late pressure from Sergio Perez to bring his RB16 home in fourth despite a brief tangle with the Racing Point driver, finishing 11 seconds behind Verstappen, who fell to third due to his front wing endplate becoming lodged in his bargeboard.
Reflecting on the team's performance in his post-race column, Red Bull chief Horner defended Albon's lack of pace compared to Verstappen revealing concerns over blistered tyre forced him to manage his rubber.
"I was asked some questions about Alex's early race pace, but let's remember that he came off the back of a strong weekend the previous week where he was challenging Lewis for victory," Horner wrote.
"It just shows how people have a short memory in Formula 1 and they're quick to forget things.
"During his first stint on the soft tyre, we were concerned about potential blistering on the front right, so he was managing his pace to ensure he was able to achieve the target lap for his pitstop.
"This meant he gave away significant pace to the cars ahead, but as soon as he changed to the medium compound, he was back on pace.
"If you look at the analysis, Alex was within a tenth of Bottas, who was chasing Max. He also did a very good job in holding off a very fast Sergio Perez at the end of the race."
The result saw Albon match his career-best finish in F1 and helped elevate Red Bull to third in the constructors' standings after a non-score at the opening round of the season.
"Alex's feedback is very good and he and Max work well together which allows us to try different things on each car and make accurate comparisons, which is what we did in Austria," Horner added.
"Alex is improving with experience, he has a good feel for what the car is doing and that's very encouraging. We all want him to succeed and let's not forget he's only done 11 races with the team whilst Max is in his sixth season.
"Alex has taken a lot of lessons out of Sunday's performance, so I don't think he should be down in any way because he actually equalled his best race result in Formula 1 and scored the team a solid amount of championship points."
---