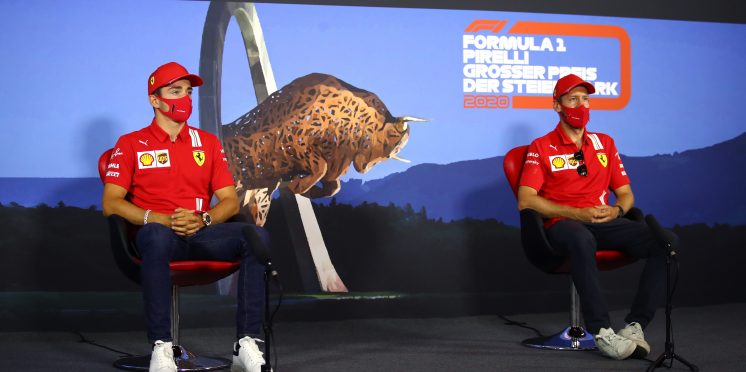 Vettel: Leclerc and I 'mature enough' to move on from collision
Sebastian Vettel insists he and Ferrari team-mate Charles Leclerc are "mature enough" to move on from their opening-lap crash during the Styrian Grand Prix at the Red Bull Ring.
Ferrari went into the weekend hoping for a turn around in fortune as it brought forward a major upgrade package to try and boost its on-track performance.
But for the second successive race the Italian team failed to see both its drivers advance to the final part of qualifying, with Vettel pipping Leclerc to secure a spot in Q3.
The pair's races would end early on as Leclerc attempted to make up places after a three-place grid drop, whacking into the side of Vettel at Turn 3 and causing extensive damage to both cars.
The incident marked a repeat of their coming together at last year's Brazilian Grand Prix, as Leclerc later accepted responsibility for causing the collision.
"It's fine, I think we're both mature enough. We move on," Vettel said when asked if he and Leclerc would be able to put the clash behind them, as quoted by Motorsport.com.
"Obviously it's a bad weekend for both of us. It's been tough anyway, and now to retire both cars obviously is bitter.
"It was difficult after last weekend. The mindset is I'm always optimistic.
"The good news is that we have the race straightaway next week, so I don't have to wait too long to get back in the car. Let's see, I hope that Hungary is a better place for us."
Following the double retirement Ferrari has slipped to fifth in the constructors' standings and is already 61 points adrift of runaway leaders Mercedes.
Ferrari team boss Mattia Binotto refused to lay the blame on either driver, although he said it was "the worst possible end to a weekend that was already very disappointing".
Vettel admitted it was a "bitter" way to end the team's race but stressed the importance of staying united during this difficult period.
"These things can happen unfortunately," Vettel said. "It's very bitter for both of us, no matter which way you turn it. Surely it was no-one's intention, and it's a tough day for us as a team.
"But we need to make sure that we don't knock ourselves down too much so that standing up is not so difficult."
---