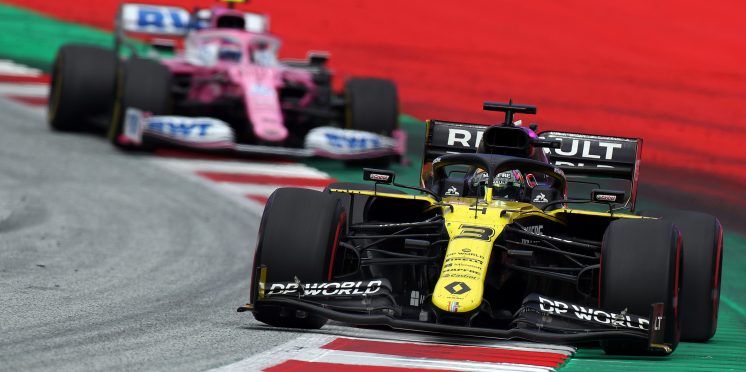 Racing Point hits out at 'misconceived and poorly informed' Renault protest
Racing Point has branded Renault's protest of its 2020 Formula 1 car as "misconceived and poorly informed" following the French outfit's formal appeal after Sunday's Styrian Grand Prix.
Renault submitted its protest in relation to the legality of the RP20, just hours after both Racing Point cars finished in the points ahead of Daniel Ricciardo.
Sergio Perez and Lance Stroll's sixth and seventh-placed finishes are now under review as Renault believes the Silverstone-based team hasn't complied with the sporting regulations, in particular Appendix 6 relating to listed parts.
The rules states: "A competitor shall, in respect of the Listed Parts to be used in its cars in Formula 1, only use Listed Parts which are designed by it."
It later adds: "In the case of the Outsourcing of design, such third party shall not be a competitor or a party that directly or indirectly designs Listed Parts for any competitor."
Racing Point's 2020 design caused heads to turn in pre-season testing as it developed a close resemblance of last year's championship-winning Mercedes W10.
Renault has suggested that certain elements of Racing Point's car – specifically the front and rear brake ducts –  haven't been designed by themselves, which is against the regulations.
The stewards deemed the protest admissible and thus have compounded the brake ducts from Perez and Stroll's cars for further analysis. Mercedes has also been ordered to provide those parts from its 2019 car so a comparison can be performed.
In a statement released on Monday, Racing Point firmly rejected Renault's allegations and is confident the case will cleared.
"BWT Racing Point F1 Team is extremely disappointed to see its results in the Styrian Grand Prix questioned by what it considers to be a misconceived and poorly informed protest," it read.
"Any and all suggestion of wrongdoing is firmly rejected and the team will take all steps necessary to ensure the correct application of the regulations to the facts.
"Prior to the start of the season, the team co-operated fully with the FIA and satisfactorily addressed all questions regarding the origins of the design of the RP20.
"The team is confident that the protest will be dismissed once it has presented its response."
---