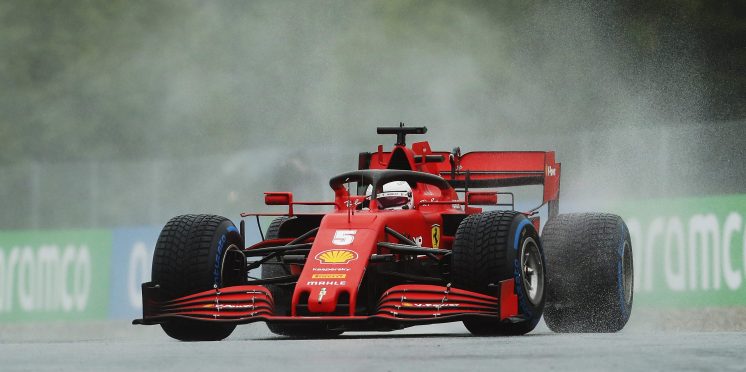 Vettel: Ferrari's pace in wet conditions 'not ideal'
Sebastian Vettel says he expected Ferrari to be more competitive in wet conditions as the Italian outfit showed more signs of struggle in a rain-soaked qualifying session.
Ferrari fast tracked a number of upgrades for this weekend's Styrian Grand Prix in response to its poor showing at the season opener in Austria.
But for the second consecutive race meeting Ferrari failed to see both of its cars through to Q3, with Vettel squeezing through to line up P10 just one place ahead of team-mate Charles Leclerc.
Asked if he'd expected a better showing from the team in these conditions, Vettel, who was 2.4s slower than pole sitter Lewis Hamilton, told Sky Sports F1: "Honestly, yes.
"It was a difficult session for us. We struggled to get the tyres to work and now we have to have a good look to see why. I had lots of aquaplaning in particular at the end of Q2 and in Q3 as well.
"So not ideal. We need to make sure we learn the maximum we can from this session and take it into the next wet session. Tomorrow should be dry which is a bit different. We fight and try everything we can tomorrow."
Leclerc was caught out as the rain intensified at the end of the second part of qualifying preventing him from being able to improve on his initial lap time.
"Unfortunately we had the rain when we went on the second set," Leclerc said. "Anyway the main problem today was that we were just not quick enough.
"There was just not much we could do. We were 1.8 off. However we look at it, we are just too slow at the moment. We just need to work."
---