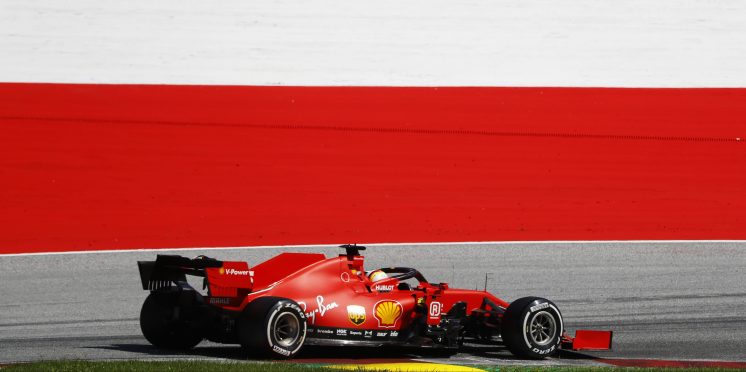 Ferrari plans to fast track Hungary update package for second Austria race
Ferrari is aiming to accelerate its major upgrade package initially planned to be unveiled in Hungary to this weekend's Styrian Grand Prix in Austria.
The Italian outfit's fears the Red Bull Ring would expose the weaknesses of its 2020 car rang true at the season opener last weekend.
Both cars failed to reach the final part of qualifying as Sebastian Vettel was knocked out in Q2, while Charles Leclerc couldn't better seventh on the grid.
Although the pair achieved a double points finish – with Leclerc claiming a surprise podium – the obvious flaws of the SF1000 uncovered from testing had carried over.
As a result of its performance struggles, the team has opted to bring forward the new components that it hopes will rectify the aerodynamic deficiencies that held it back at the Austrian Grand Prix.
In a statement Ferrari said: "The SF1000 didn't measure up, even compared to expectations ahead of the event. Because of this, development has already been going on at full pace for some time.
"This is in the hope of bringing forward to next weekend the introduction of the aerodynamic package scheduled for the Hungarian Grand Prix – or, at least, some of its components.
"It's not that these new parts are expected to completely bridge the gap compared to the front of the grid. But the progress in terms of lap time could allow the team to move up the order and put the drivers in a better condition to be able to display their talent.
"Moreover it's about checking that the chosen direction of development is the right one, precisely because it will be possible to do a true back-to-back on every upgrade."
Ferrari's team boss Mattia Binotto stressed that even with the addition of an updated car there is no quick fix for the team's issues, after it trailed Mercedes by a one-second deficit in Austria.
Despite it proving a difficult start to the campaign, Ferrari CEO Louis Camilleri is full behind Binotto's direction and praised Ferrari's immediate response to its on-track troubles.
"We know there's lots of work to do," he said. "This is certainly not the grid position that a team like Ferrari should have and we have to respond immediately.
"It's clear that we have to improve on all fronts. The only solution is to react and I'm pleased by the immediate reaction and the work that Mattia and all his team are putting in at every level.
"This is not just to bring to the track today what was scheduled to be ready tomorrow, but also to speed up the programme of development for the coming races.
"This is the response of a united team which is rolling up its sleeves and facing the problems head on, without crying about it. We are at the start of a new cycle with a longterm plan. Any setbacks will certainly not change our chosen course and I have every confidence in Mattia and the team in addressing our shortcomings."
---