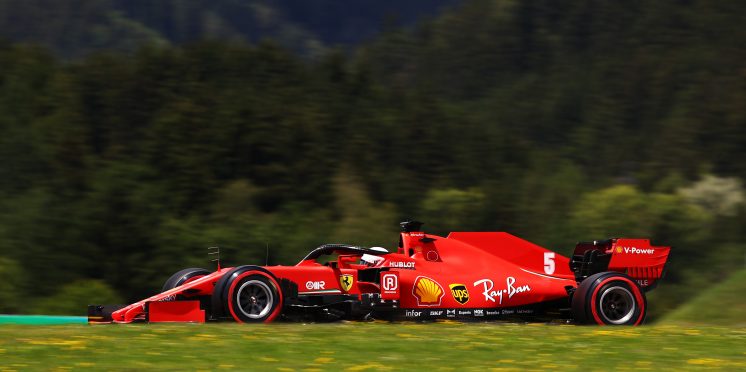 Vettel concedes Ferrari's qualifying woes in Austria a 'surprise'
Sebastian Vettel admits his Q2 elimination during qualifying for the Austrian Grand Prix came as a "surprise" as Ferrari's performance struggles were exposed.
Ferrari went into the weekend expecting to be off the pace in Austria after the SF1000 was shown to be lacking sheer speed back in winter testing.
The Italian outfit is already planning a complete revamp of its 2020 car for Hungary, and its fears were realised as it managed to only get one car through to Q3.
Vettel was knocked out in P11, while team-mate Charles Leclerc, who claimed pole position at the Red Bull Ring 12 months ago, could only manage a fourth row starting position for Sunday's season opener.
Reflecting on his performance in qualifying, Vettel said: "Obviously it's a surprise. We thought we had a little bit more in hand, but it looks like the others were probably running a bit more fuel, a bit more conservative in practice.
"I wasn't quite happy with the car, I was not so happy with the car, quite more oversteer on entry than I would have liked. But we'll see."
Looking ahead to the race Vettel was optimistic Ferrari could turn around its form to claim a decent points haul, but is wary hotter temperatures have worked against the team this weekend.
"Tomorrow is a different picture," Vettel said.
"I think with the track getting a bit hotter, it was a bit more costly for us today.
"It's a long race. I think in race trim we are always better. I think we will be there to make up some good ground and score some good points."
Leclerc will start four positions ahead of Vettel, but his reaction to scrapping through to the final stage of qualifying expressed how much of a shock Ferrari's pace was to him as he told his race engineer it was "crazy".
Even worse news for the Scuderia is it will line up amongst the midfield pack and behind McLaren's Lando Norris and Racing Point's Sergio Perez, who qualified P4 and P6 respectively.
---