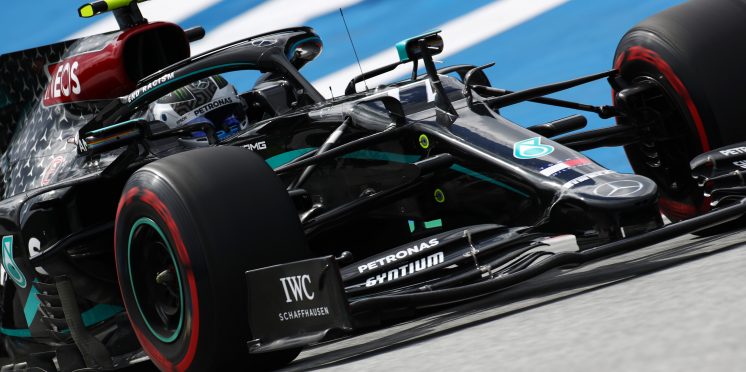 FIA deems Mercedes DAS legal following Red Bull protest
Mercedes' controversial dual-axis steering system has been ruled legal by the FIA after Red Bull's protest was rejected ahead of this weekend's Austrian Grand Prix.
The steering device, which Mercedes debuted in pre-season testing back in February, was used by the team during the opening two practice sessions in Austria.
DAS is known to be a benefit to car performance where the driver can push forward and pull backwards on the steering wheel to adjust the toe angle.
Rival teams had initially questioned whether the innovation adhered to the technical regulations, with Red Bull stating it was seeking clarification from the FIA over the system's legality.
Both Mercedes drivers Lewis Hamilton and Valtteri Bottas were seen operating DAS during both FP1 and FP2, as the pair topped the timesheets in both sessions.
Red Bull officially lodged a protest on Friday evening under two articles of the technical regulations, arguing it didn't comply to rules regarding suspension and aerodynamic performance.
However, the stewards' report concluded DAS – which has been banned for 2021 –  didn't breach any such regulations and was deemed legal.
"As a general conclusion, it is very simple to conclude DAS would be illegal IF it were not part of the steering system," the stewards' document read.
"So the main challenge and debate has to be on whether it can be considered to be part of the steering system. The stewards decide that DAS is a part of the steering system.
"Therefore the Stewards consider DAS to be a legitimate part of the steering system and hence to satisfy the relevant regulations regarding suspension or aerodynamic influence."
"In the opinion of the Stewards, the DAS system is physically and functionally a part of the steering system.
"As such, it benefits of the implicit exceptions to certain suspension regulations applicable to steering."
As a result Mercedes is permitted to continue using DAS on the W11 in Saturday's FP3 and qualifying sessions at the Red Bull Ring.
---