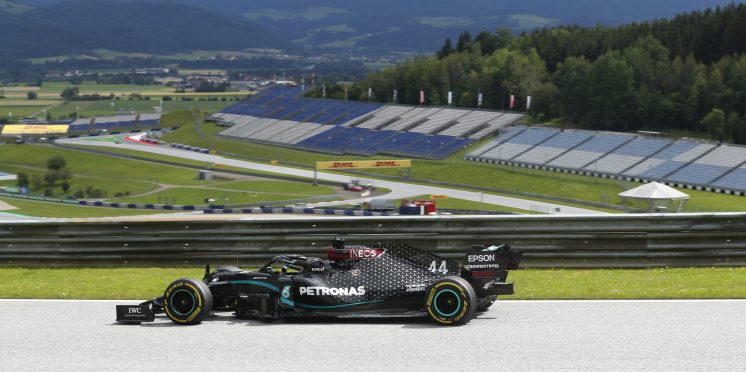 Red Bull lodge formal protest to FIA over Mercedes' DAS system
Red Bull has lodged an official protest to the FIA in relation to the dual-axis steering system used by Mercedes ahead of the season-opening Austrian Grand Prix.
DAS was first introduced by the German manufacturer in pre-season testing, a steering device operated by the driver to adjust the toe angle of the car.
With the innovation a clear benefit to car performance, Mercedes' rivals had been sceptical as to whether it complied with Formula 1 regulations.
Red Bull team boss Christian Horner admitted to Sky Sports F1 during Friday's first practice session that it was seeking clarification over DAS from the FIA.
The team had initially planned a protest – if Mercedes had opted to run DAS – on the eve of the Australian Grand Prix in March before the race was cancelled.
F1's governing body the FIA confirmed a formal protest had been lodged by Red Bull following the completion of the opening two practice sessions in Austria.
Mercedes dominated practice at the Red Bull Ring finishing 1-2 in each session, as both Lewis Hamilton and Valtteri Bottas were spotted using DAS inside the cockpit of the W11.
It is understood the protest over the system relates to a breach of articles 3.8 and 10.2.3 in the technical regulations.
Article 10.2.3 is in regards the cars suspension, which the rule states that "no adjustment may be made to any suspension system while the car is in motion".
On the other hand, article 3.8 is the aerodynamic influence, where it reads "any specific part of the car influencing its aerodynamic performance must comply with the rules relating to bodywork" and "must be rigidly secured to the entirely sprung part of the car (rigidly secured means not having any degree of freedom)".
A meeting between both teams with the FIA stewards is expected at the circuit on Friday evening at 7:10pm local time.
---