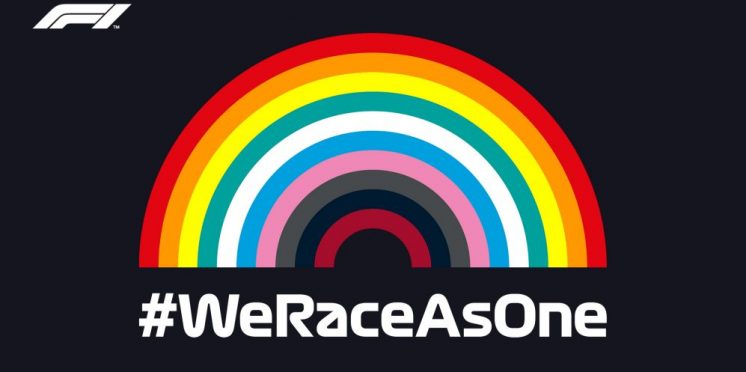 F1 launches initiative to support COVID-19 fight and promote greater diversity
Formula 1 has unveiled a new initiative that is designed to fight the challenges of the global coronavirus pandemic and push for greater equality in the sport.
The initiative, titled #WeRaceAsOne, has been launched ahead of the start to the delayed 2020 season next week, supporting major issues faced both within the series and in society.
The COVID-19 crisis has had a major impact on F1 in both short and long-term, leaving teams at risk of collapsing which in turn has led to the implementation of a cost cap from next season.
Across the Austrian Grand Prix weekend, teams and F1 partners will display rainbows on their cars and around the circuit to thank key workers and individuals.
McLaren has released images of how it plans to show its support for the cause with a rainbow featured on the halo of the MCL35.
There is also to be a series of visual displays aimed at tackling racism, in light of the recent Black Lives Matters campaign to condemn racial injustice.
Reigning world champion Lewis Hamilton, who is the only black driver to have competed during the championship's 70-year history, has been particularly vociferous regarding the stance against racism.
The Briton announced a new commission fronted by himself that is aimed at creating a more diverse background in motorsport, providing more opportunities for people of different multi-cultural backgrounds to work in the field.
In addition to the various displays, F1 will announce in due course a Formula 1 Task Force that is set up to increase diversity and opportunity in the sport.
F1 will also continue to push on with its sustainability strategy to target a net zero carbon footprint by 2030. The initiative was confirmed to continue throughout the 2020 campaign.
"Our first race in Austria at the start of July is a big moment for our sport after nearly four months of no racing," F1 CEO Chase Carey said.
"While it is an important moment for the Formula 1 community it is also a time to recognise the issues that are bigger than any one sport or country.
"The #WeRaceAsOne initiative we have launched today, in support of the #PurposeDriven Movement launched by the FIA last week, is our way of saying thank you to the bravery and unity everyone around the world has shown during this unprecedented time.
"It will also be a platform for Formula 1 to come together and achieve results against the most important issues facing us as a sport and the world.
"That is why at our first race in Austria Formula 1 will stand united to say loud and clear that racism must end. We will show our full support in fighting inequality throughout the weekend and accelerate our own efforts to make Formula 1 more diverse and inclusive.
"As a global sport we must represent the diversity and social concerns of our fans, but we also need to listen more and understand what needs to be done and get on with delivering."
---