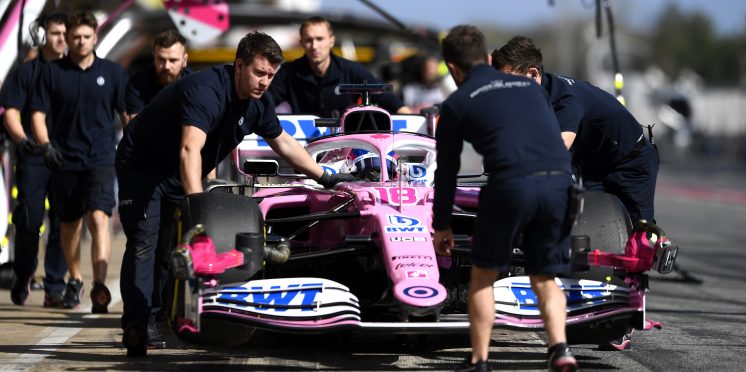 Racing Point completes first laps in 2020 car since testing at Silverstone
Racing Point has become the first team to run its 2020 car on track since the coronavirus outbreak delayed the start to this year's Formula 1 season.
The Silverstone-based outfit conducted a promotional event on Silverstone's national circuit on Wednesday, with Lance Stroll at the wheel of the RP20.
All teams have been unable to test their current machines since pre-season testing at Barcelona concluded in February, but each team is permitted to two filming days where they are limited to 100km of running.
With F1 announcing changes to procedures at behind-closed-door races, the test gave Racing Point the chance to practice the new grid and pitlane protocols.
Stroll, who is entering his second campaign representing the pink-liveried squad, was able to complete a solid amount of laps without any weather interruptions.
The team's 2020 car design strikes a close resemblance to Mercedes' championship-winning W10 from last season, which caused an uproar from its rivals in winter testing when it broke cover.
It proved a promising package as it posted competitive lap times around the Circuit de Barcelona-Catalunya, with its pace even leading to suggestions Racing Point may be ahead of Ferrari in the pecking order.
Team principal Otmar Szafnauer has been full of praise for the RP20's design, and has labelled the car as the best the team has ever produced.
"I think this is the most competitive [car]. We've taken a decent step forward," Szafnauer told the F1 Nation Podcast.
"As a general package, out of Barcelona, which is usually a good indicator of how well your aerodynamic team has done, this is probably the best that I have seen our aerodynamic team has produced, and the best we've been at Barcelona anyway."
Mercedes and Renault are the only other teams to have conducted test milage, albeit in their 2018 cars.
Valtteri Bottas and Lewis Hamilton completed a two-day test at Silverstone last week, while Renault ran the RS.18 at the Red Bull Ring in Austria which will host the opening race of the 2020 season.
---