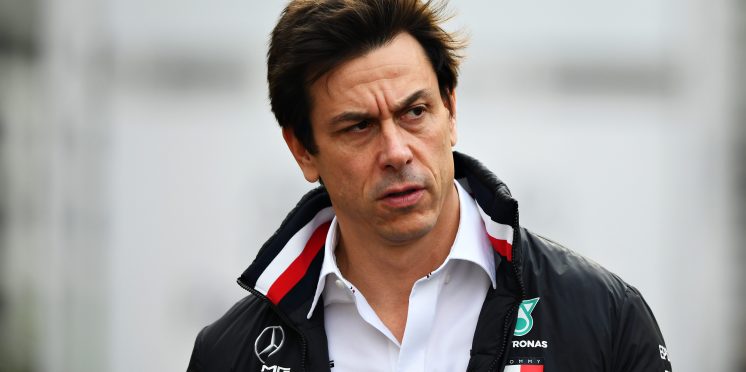 Wolff reveals why Mercedes was against 'gimmick' reverse grid races
Toto Wolff has explained the reasons behind Mercedes' decision to reject the proposal of trialing reverse grid qualifying races during the 2020 season.
Formula 1 bosses held talks with team principals last week regarding reverse grid races, with the idea for a sprint race to run on a Saturday instead of qualifying to determine the grid for Sunday's grand prix.
The idea was due to be trialed on the second weekend of double-header events, but, despite the majority of the grid favouring the change, Mercedes blocked an experiment with the format from taking place.
Speaking to select media, Mercedes boss Wolff named three "fundamental" reasons why his team had not been in favour of agreeing to a reverse grid race.
"It seems to be a common pattern in Formula 1 that we're digging out old ideas that have been analysed previously and rejected," Wolff said.
"Then somebody thinks it's great and it's back on the back on the agenda. So you need to look at the reasons why we were against it, and there's three fundamental reasons.
"First, I believe that F1 is a meritocracy. Best man in best machine wins. We don't need a gimmick to turn the field around to create more exciting racing.
"Number two, I know it from touring car racing that strategies become a very useful tool when one race result is basically making the grid for the next one.
"Just imagine one of the drivers not running well on the Sunday race of the first Spielberg weekend, and you decide to DNF the car. That will be the car that starts from pole for the qualy race.
"And if that car starting on pole on the qualy race is within midfielders, he will certainly be on pole for Sunday and win the race. There will be cars in the middle that will defend and block as much as they can.
"And therefore, for the quick cars coming from behind, it will mean more risk for a DNF and that could influence the championship.
"And then [third], from a pure performance standpoint, whoever the fastest car may be, and it's not necessarily us, will be penalised [compared to the] second and third quickest teams, because they will simply start in front.
"As we know the margins are often not very large, so therefore it's a bit of an opportunistic move to give some teams an advantage."
On the driver market front, Wolff remains open to analysing all options although "priority" lies with both Lewis Hamilton and Valtteri Bottas, despite the pair being out of contract at the end of the year.
Sebastian Vettel's name has been thrown into the hat after failing to agree a new deal with Ferrari, while Mercedes junior George Russell and Esteban Ocon are also in the frame.
"We were quite surprised with the early movements because you need to start the season with a driver that you know you're going to lose," said Wolff.
"For us we want to take our time. Our priority lies on the Mercedes drivers, Valtteri and Lewis, and then obviously George and the Williams situation we're looking at with interest. Beyond that you do not discount any driver.
"This is why I said I don't want to discount Sebastian as a four-time world champion, because who knows what happens in the next months? We are just keeping our options open at this stage."
---