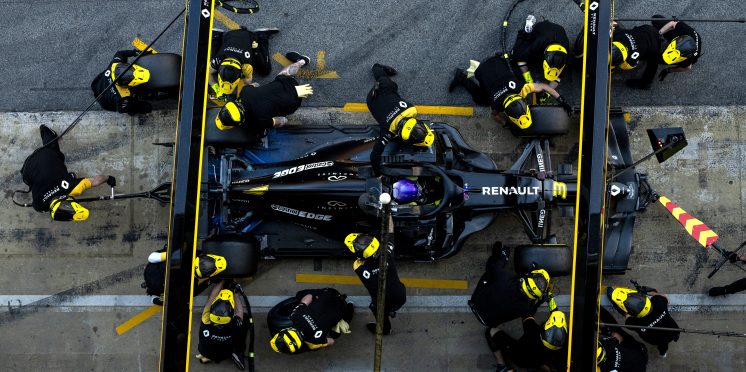 Renault remain 'committed to F1' despite imminent job cuts
Renault has stressed it is more than committed to remaining in Formula 1 for the foreseeable future despite revealing plans to make major job cuts throughout its business.
The French outfit's announcement comes during challenging times for manufacturers who are struggling financially amid the COVID-19 crisis.
As part of a cost-saving scheme, that is aimed at saving up to $2bn over a three-year period, Renault will offload 15,000 staff worldwide.
Although speculation has arisen in recent months that Renault was considering closing down its F1 operation, upon review it has opted stay ahead of the F1's introduction of a cost cap and the new technical regulations in 2022.
Renault's current interim chief executive Clotilde Delbos noted the these incoming changes were a big influence in its decision.
"We have said publicly and we confirm that we remain committed to Formula 1," she said, as quoted by Motorsport.com
"The announcement of new regulations on spending limits is very good for us because we will have to invest less in this discipline than some of our competitors who spend a lot of money."
F1 confirmed a $145m budget cap had been agreed for 2021, reduced to $140m the following year with a further drop to $135m in 2023-2025.
It is hoped to play a significant role in levelling the playing field between teams, bringing an end to the two-tier grid of recent years.
Renault returned to F1 in 2016 in its third spell in the sport, having previously won two world championships with Fernando Alonso in the mid-2000s before selling to Lotus in 2012.
It has steadily progressed up the standings, finishing a high of fourth in 2018 but suffered a difficult campaign last year that saw it slip behind engine customers McLaren.
The Enstone-based team is on the lookout for a new driver following the announcement Daniel Ricciardo will leave Renault at the end of the season to join McLaren.
Rumours suggest Alonso could be in contention to link up with his former employers, despite the Spaniard not having driven in F1 for two years.
Ferrari's Sebastian Vettel is also a candidate for a seat having opted to part company with the Scuderia at the end of 2020.
---