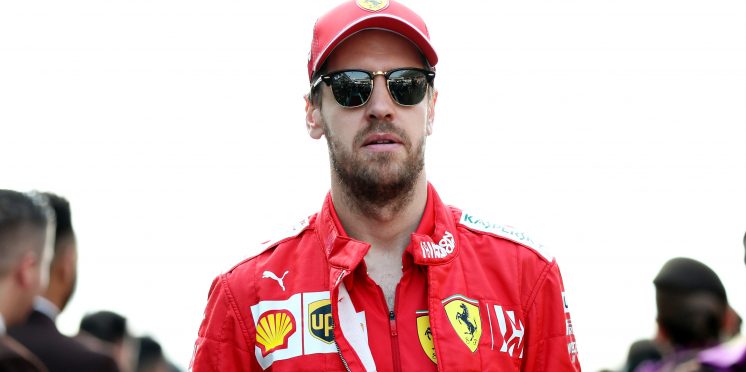 Massa: Vettel not to blame for Ferrari's failure to end title drought
Ex-Formula 1 driver Felipe Massa believes Sebastian Vettel should not be blamed entirely for Ferrari's recent failure to secure a first drivers' championship since 2007.
Vettel joined the Italian outfit in 2015 with the aim of emulating his childhood hero Michael Schumacher in bringing championship success back to Ferrari.
But the German's five seasons at the team has so far fallen short of expectations, despite claiming 14 victories, that has seen his bid for a fifth title evade him due to errors from both him and Ferrari.
The recent announcement that Vettel and Ferrari will part company at the end of the 2020 season means he has one final campaign to end its 12-year wait for a drivers' crown.
Speaking to Sky F1 in a special Ferrari Vodcast, Massa said Ferrari's lack of success is "not only related" to Vettel's mistakes.
"You cannot forget that the last time Ferrari won the [constructors'] championship was in 2008," Massa said.
"It's true that many good drivers [were] passing through the team and were not able to win. Including after 2008 I was there, and we never had really the car or the team to win.
"Fernando [Alonso] definitely made an incredible job in 2010. He arrived really on the limit fighting for the championship. But maybe, to be honest, the car was not able to win in that year. In my opinion, he did an amazing job.
"All of the drivers that are passing there [since] – Sebastian, Kimi [Raikkonen]- were not able to win because the team was not completely perfect to win the season.
"So it's not only related to Sebastian. Sebastian did many great races, he won many races or he fought [for them], and he was always in front of his team-mate – even a good team-mate and champion like Kimi."
Ferrari has already confirmed Carlos Sainz as Vettel's replacement for 2021, who has signed a two-year deal to partner two-time grand prix winner Charles Leclerc.
Massa admits he'd backed Daniel Ricciardo to be the leading contender for Vettel's seat but can understand why Ferrari opted for Sainz instead.
"What I can say is I also expected Ricciardo maybe to be the Ferrari driver because everybody is thinking 'Ricciardo will be the guy'," he said.
"But I think we need to respect the decision of Mattia [Binotto] and the team to get Carlos. Carlos shows that he has the talent.
"In his first year of Formula 1 if you really go back and try to see all the races, I think he and Verstappen were really close. He really showed he has the speed, he has the talent and he works a lot.
"He is a big worker in the physical way, but also in the team. He grew a lot in his career and last year he did a really fantastic year for McLaren. He has the experience so has the capacity to give what the team wants."
---