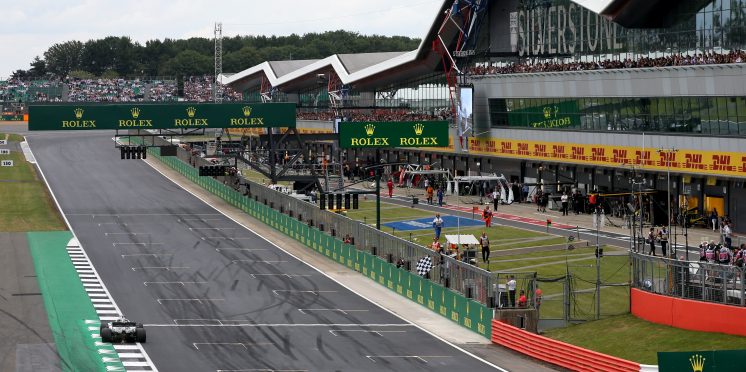 Silverstone prepared to be flexible over race dates to save British GP
Silverstone boss Stuart Pringle says it would open to holding a British Grand Prix in August to adhere to the latest quarantine measures imposed by the UK government.
The circuit had agreed to host two races behind closed doors, but these plans have been put in jeopardy after the announcement that Formula 1 personnel won't be made exempt.
This is line with a regulation, which will come into force on June 8, that anyone arriving in the UK will be required to quarantine for 14 days.
Although this is a blow for Silverstone's hopes of staging a grand prix in 2020, Pringle insisted it has not given up hope and is willing to switch its race date to a later slot.
"We've got our original dates that we've been holding and talking around in mid-to-late July, but actually we've got a degree of flexibility through August as well," managing director Pringle told Sky Sports F1.
"I don't think that finding a date for Formula 1 is going to be a problem, or indeed two dates. What we need is the green light from government, and that will take time.
"In terms of the period we need to stand the venue up, without fans present, it really is relatively short. There's quite a lot of planning that needs to account for the COVID-19 implications, and that's new, uncharted territory for us.
"But everything runs out of a fixed infrastructure. We've got two permanent paddock blocks, so we're not talking about putting up too many marquees or fan areas or anything like that."
Pringle is optimistic that if Silverstone can agree an August date it could allow more time for restrictions to be eased, but stressed clarification on the quarantine situation is pivotal in advance of any pre-race changes.
"I think Formula 1 as a championship needs that exemption, and needs to understand where it is, because they've got to plan," Pringle said.
"It's a huge logistical operation, they've got to knit together a series of dates and get a freight plan that works, and got to know what the impact on the personnel is. That requires some clarity.
"I think there is cause for optimism, that if we were to go further to the right in the calendar then it would make things easier.
"But I think actually from a planning point of view, they need to know sooner rather than later that the teams can come back and forth, seven-tenths of the teams can come back and forth to their base between a couple of races.
"For Silverstone, if we move into August, that might give a little more certainty, but actually, I think it's probably essential that there's clarity on the quarantine situation in advance of that."
If Silverstone is unable to get around the government's strict measures, Hungary or Germany are understood to be front-runners to hold a spectator-free grand prix after the season opener in Austria.
---