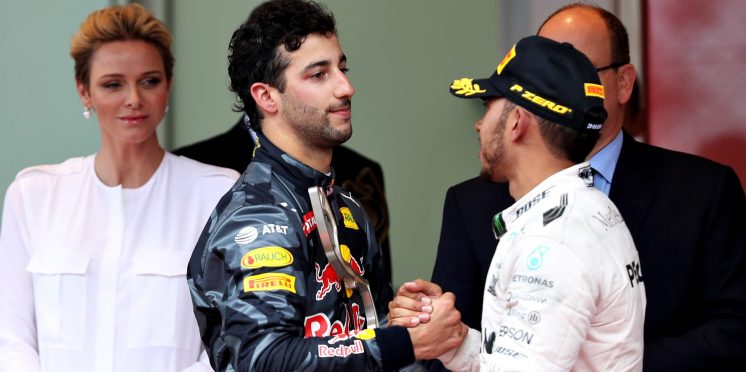 Ricciardo was 'haunted' by 2016 Monaco defeat
Daniel Ricciardo has revealed missing out on a victory at the 2016 Monaco Grand Prix "haunted" him for two years before he made amends in 2018.
Ricciardo had put his Red Bull on pole position for the first time in his Formula 1 career in qualifying, pipping the Mercedes drivers of Lewis Hamilton and Nico Rosberg.
On race day, the Australian coped well in the tricky conditions following a heavy rain shower before lights out, and looked on course to bag his first win of the season.
But when pitting for dry tyres on Lap 32, Ricciardo lost a heap of time when his mechanics weren't ready for him at his pitstop, crucially losing him the lead to Hamilton who would hold him off to the chequered flag.
In a diary post on social media sharing his most extreme moments during his time in F1, Ricciardo admitted having the win taken away through no fault of his own left him with "pure rage".
"Even four years on, I remember this day in so much detail, it's like a video in my mind," said Ricciardo.
"I can picture myself driving through the corner before the tunnel after THAT pit stop and I was so angry.
"I didn't want to talk to anyone afterwards, I certainly didn't want any sympathy… it was just pure rage.
"I remember standing on the podium with Lewis, he'd won a race that I had under control… I just didn't want to be there."
Ricciardo would make up for the defeat two years later in the Principality by winning from pole, albeit whilst suffering MGU-K failure on his car that saw him lose two gears and 160 horsepower for more than half of the 78-lap distance.
"I'm not going to lie, Monaco 2016 haunted me for two years, and then to not put a foot wrong in 2018 and thinking the win would slip away from me again…" he said.
"Monaco 2018 was a different level of stress simply because of what had happened there in '16. The main feeling was sheer relief that this time I didn't have it taken away from me.
"I enjoyed it more the days after the Sunday when it all sunk in, but that Sunday night – I was just burned out. It was more a massive exhale than anything else."
Although the 2020 season is currently on hold due to the COVID-19 pandemic, Ricciardo says he's raring to race again at any circuit in the near future.
"No secret Monaco is my place and gets me going more than anything. But right now? I'd take anything! The next race, wherever and whenever that is… hopefully that's not too far away."
---