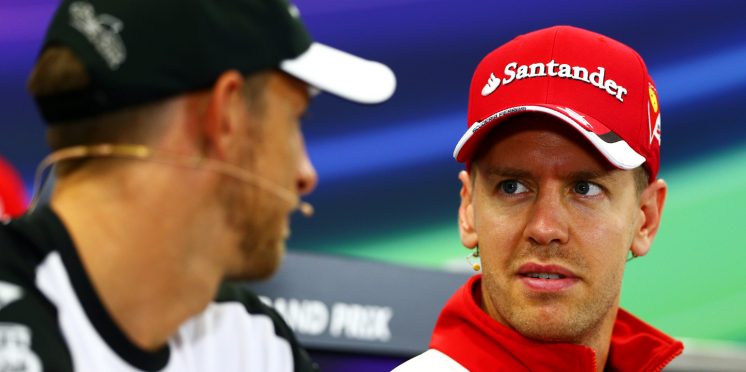 Button: Vettel being pushed out by Ferrari is 'madness'
Ex-Formula 1 driver Jenson Button believes if the theories that Sebastian Vettel was pushed out of Ferrari are true then it is "madness".
Vettel will depart the Italian outfit at the end of the year after spending six seasons at Maranello, a period in which he has failed to add to his four world titles at Red Bull.
Ferrari confirmed the German's replacement imminently by announcing McLaren's Carlos Sainz would fill his seat in 2021, which led to Daniel Ricciardo's move from Renault to McLaren also being revealed.
Speculation has surfaced that Vettel wasn't offered a new contract by Ferrari, who'd already eyed Sainz as it's number one target over the winter off the back of his impressive first season at McLaren.
"If he was pushed, for me it's madness," Button told Sky F1. "It really is.
"A four time world champion, he showed his speed as well last year, he had a tough moment in the season when Charles [Leclerc] was performing really well and I think that did hurt him a little bit mentally.
"But he came back really strong and he's just somebody you would definitely choose to put in your car if you had an F1 team. So, there must be more to it.
"I don't know if Ferrari is going down the route of not wanting two number one drivers or what but it's a really strange choice to me and I'm still shocked by the decision of Sebastian not being in a red car."
Sainz's arrival alongside two-time grand prix winner Charles Leclerc forms Ferrari's youngest driver line-up in over 50 years, but Button feels the team may have underestimated the Spaniard if it expects him to play second fiddle to Leclerc.
"I think that Carlos is a winner," Button said.
"He's like his father, he wants to go there and do the best he can and he wants to bring home a championship.
"He [Binotto]'s chosen the wrong person if he just wants a good atmosphere within a team.
"Obviously [Ferrari will have] a great character in Carlos but he wants to win."We'll have to see how it plays out."
Button's former team-mate Fernando Alonso is being linked with a return to the grid with Renault next year, three years after leaving the sport disillusioned with the lack of opportunities to race at the front of the field.
But the 2009 world champion reckons Renault's project is long-term and won't enable Alonso to hit the ground running.
"If Renault were close to the front and he could see in 2021 and 2022 there's a chance of podiums and wins, I think he would jump at the chance if he had the option," he said.
"But I think it's going to be a longer process than that. If they do get to the front it's probably going to be four plus years – and he doesn't have that time. He's not willing to put in that time, I don't think. Fernando is that sort of guy that when he has an opportunity he really does take it.
"I'm just not sure this is the right opportunity for him. If he was able to get into one of the top three teams? Of course, he would jump at the chance because he would be able to show his speed, and he hasn't lost it at 39 years old. But building a team for three or four years? I don't think that is what Fernando is looking for."
---