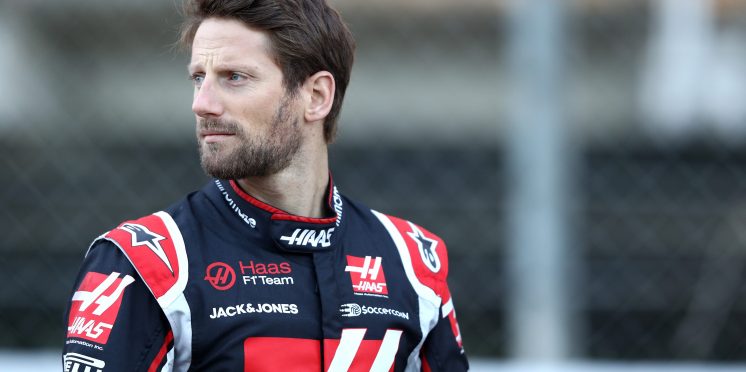 F1 drivers 'very active' in plans to restart 2020 season, says Grosjean
Romain Grosjean says Formula 1 drivers have been "very active" with championship officials in their bid to help get the 2020 season underway as soon as possible.
The global COVID-19 pandemic has caused a major delay to the start of the campaign, resulting in the opening 10 races being called off.
F1 chiefs are aiming to have the season up and running by early July under strict health and safety measures to prevent the virus spreading in the paddock.
It plans to create a "biosphere" environment that will see all team personnel undergo tests every two days at grand prix's and before they travel.
Grosjean, who is a director of the Grand Prix Drivers' Association, revealed drivers have been involved in talks with F1 bosses to help resume racing as soon as it is safe to do so.
"We have got a WhatsApp group and it has been very active, I must say," Grosjean told the Sky F1 Vodcast. "A lot of discussions on different subjects.
"We had a call with Formula 1, Chase Carey and Ross [Brawn]. I just couldn't make the call, but I know Alex [Wurz, GPDA chairman] and Sebastian [Vettel] were on it, and then I got the feedback.
"We are trying to be as much as we can involved; trying to help the best we can because to help the teams we need to go racing earlier than later.
"Obviously not doing anything costs money for nothing and if we can go racing then we know what's happening.
"Everyone is doing his best. Obviously, it's very difficult to know what the situation is going to be like," he added.
"Taking a lot of measures and trying to make sure that everything is great. But maybe in July the world will be in a much better place and actually we can ease things up a little bit. As I said, the earlier we can go racing the better."
F1 says it expects the opening races to be contested without spectators and Grosjean admits racing without fans will be a strange feeling.
"It's going to be normal and abnormal at the same time," Grosjean said.
"We're going to go back to racing and driving cars, but also we'll have a limited amount of people around and no spectators. So, some things will be very different and some things will be the same.
"But it's going to be good. But everyone is looking forward to going back racing."
A heavily-revised calendar featuring 15-18 rounds is set to be released in the coming days, with a packed schedule up until the Abu Dhabi season finale in December.
Grosjean said drivers are fully aware they could face longer periods away from home if they race on consecutive weekends.
"It's going to be hard to be away, but we're all aware that could happen," he said.
"We are enjoying the time that we have now [at home] but obviously once you start going racing, it could be four races in a row in Europe and if we go to Asia, is it going to be the same thing? We may be away for a month.
"So we've just got to be prepared. It's going to be different, it's not going to be what we used to have in terms of flying as late as you can [into the country] and as early off as you can. But we need to go racing, we need to do the best for everyone, and if it takes a little bit of time away so be it."
---