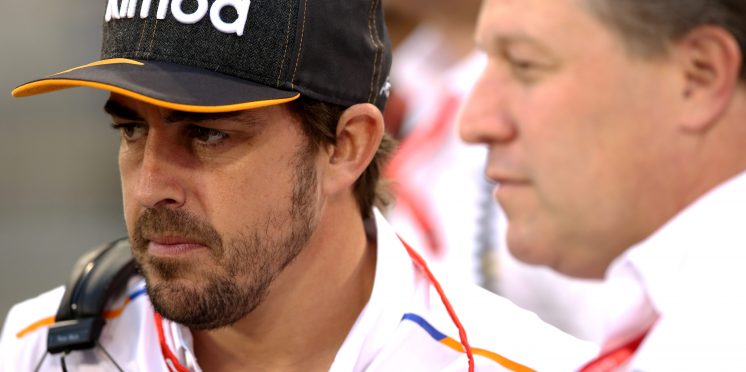 Brown unsure Alonso has the 'appetite' for Renault F1 seat
McLaren Formula 1 CEO Zak Brown says he's not sure Daniel Ricciardo's vacant seat at Renault will appeal to Fernando Alonso amid rumours the Spaniard is contemplating a comeback.
Ricciardo's switch to McLaren for next year, which was announced last week, has opened up a spot at Renault alongside Esteban Ocon.
Alonso has hinted he is interested in a return to F1, that could see him tempted by the new technical regulations to seek a desired third world championship.
Since Alonso's departure from F1 at the end of 2018 his efforts have been set on chasing motorsports 'triple crown', but with the right team and car at his disposal he may consider reviving his F1 career.
But with all the top seats seemingly unavailable, the Spaniard's only realistic option is a third stint at Renault where he won both of his F1 titles in 2005 and 2006.
"I spoke with him the other day, and was kind of poking around, and I think he's undecided,"  Brown told Sky Sports F1.
"If I was running Renault, that's who I'd put in the car. A big name. Fast as anyone. Won two championships with them, so he's got history.
"So from a Renault perspective, I think he's a bit of a no-brainer to put in.
"But whether Fernando wants to get back to 22 races, with a car that doesn't look like it's capable of winning yet… I think given Fernando's stature, what would get him to jump at a seat is if he thinks he could be on the top of the podium.
"So given that they're on a similar [to McLaren] kind of journey back to the front – and I think they'll get there, they're a great team, great resources, great company who's been there and done that before – I don't know if Fernando has the appetite to be on a three-year journey versus getting in a car that he can win in in '21."
Alonso recently suggested that he "more or less" knows his plans for next year, as the double world champion prepares for a third crack at the Indy 500 with McLaren later this year.
Brown believes the same questions regarding his immediate future also apply to Sebastian Vettel, who confirmed he and Ferrari would split at the end of the 2020 season.
Like Alonso, Vettel too has been linked with a Renault drive, but question marks over its competitiveness and long-term commitment to F1 could go against the French outfit's pursuit of the German's signature.
"I don't know what will happen with Seb," Brown said, who also revealed Vettel had not been considered for a 2021 McLaren seat.
"Kind of like Fernando, if he wants to get into a car and go win the championship and right away, it doesn't appear those seats are available.
"So does he want to hit the reset button and get on a three year journey somewhere? Or is he done?
"I think he clearly still wants to race. It'll be unfortunate if you have a four-time world champion who wants to race but can't find that seat that he deserves."
---